Director of the United States Patent and Trademark Office: Who Is Andrei Iancu?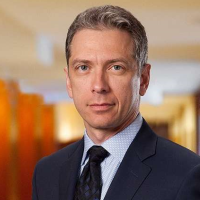 Andrei Iancu, (photo: Irell & Manella)
An attorney whose firm once represented President Donald Trump, Mark Burnett Productions, and NBC Universal in a copyright case concerning Trump's television show, "The Apprentice," is now director of the U.S. Patent and Trademark Office (USPTO) and under secretary of commerce for intellectual property. Andrei Iancu took office on February 8, 2018, having been nominated by Trump on August 26, 2017, and confirmed by the Senate 94-0 on February 5, 2018. He succeeds Michelle Lee, who had strong support in the tech industry to continue in the job. USPTO has almost 13,000 employees.
Born April 2, 1968, in Bucharest, Romania, to Leon and Inda Iancu, Andrei Iancu immigrated to the U.S. with his family at the age of 12. Iancu was educated at UCLA, earning a B.S. in aerospace engineering in 1989, an M.S. in mechanical engineering in 1990, and a J.D. in 1996.
Iancu was an engineer at Hughes Aircraft Company in El Segundo, California, from 1989 to 1993. While there, he worked on the application of shaped reflector technology for spacecraft communications antennas. He left Hughes to pursue a career in law. While he was a law student, Iancu worked as a summer associate in 1994 and 1995 at the defunct Los Angeles firm of Lyon & Lyon LLP, which also employed him as an associate from 1996 to 1998.
In 1999, Iancu left Lyon & Lyon to work at Irell & Manella LLP, also in Los Angeles. He was an associate there from 1999 to 2004, when he was promoted to partner. In January 2012, he was elected managing partner. According to his financial disclosures, Iancu has recently earned about $4.7 million per year.
Iancu has specialized in intellectual property litigation, litigating before the USPTO, U.S. district courts, the Court of Appeals for the Federal Circuit, other federal appeals courts, and the U.S. International Trade Commission. He has represented clients associated with medical devices, genetic testing, therapeutics, the internet, telephony, TV broadcasting, video game systems, and computer peripherals. In 2016, he also won victories for B/E Aerospace in a dispute about aircraft toilet patents.
Iancu has taught patent law at the UCLA School of Law, and has written and spoken on many intellectual property issues.
Since 2013, Iancu has served on the board of directors of Sinai Temple in Los Angeles, which is the oldest and largest Conservative Jewish congregation in the greater Los Angeles area. He has also been a member of the right-wing American Israel Public Affairs Committee (AIPAC) since 2010.
Andrei Iancu is married to Dr. Luiza Cecilia Iancu, with whom he has two children, Ariella and Robert.
-Matt Bewig
To Learn More:
Senate Questionnaire (Senate Judiciary Committee)
Skilled in the Art: Is Andrei Iancu the Change Patent Owners Have Been Waiting For? (by Scott Graham, Law.com)
Andrei Iancu: Went from Designing Satellites to Arguing Cases (by Kenneth Davis, BCG)