Director of the United States Geological Survey: Who Is James Reilly?
Wednesday, February 07, 2018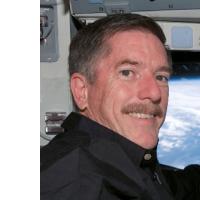 James Reilly (photo: NASA)
James Francis Reilly II, who early in his career worked as an oil company geologist but more recently was a NASA astronaut, was appointed January 26, 2018, to lead the U.S. Geological Survey (USGS), part of the Department of Interior. The USGS collects, monitors, analyzes, and provides scientific understanding about natural resource conditions, issues, and problems.
The son of James F. Reilly and Billie Reuther, Reilly was born March 18, 1954, at Mountain Home Air Force Base in Idaho. He also lived in Washington state as a child before moving to Texas. He graduated from Lake Highlands High School in Dallas in 1972 and considers Mesquite, Texas, to be his hometown. Reilly attended the University of Texas at Dallas, earning a B.S. in geosciences in 1977 and an M.S. in that subject in 1987.
After earning his bachelor's degree, Reilly did post-graduate work in Antarctica, specializing in stable isotope geochronology. He returned to Texas in 1979 as an exploration geologist for Santa Fe Minerals and in 1980 moved to Enserch Exploration, first as an oil and gas exploration geologist. He eventually became Enserch's chief geologist for its offshore region, but still hadn't let go of his childhood dream to become an astronaut. He first applied to NASA in 1985, but without a doctorate Reilly wasn't considered.
He returned to UT-Dallas, eventually earning his Ph.D. in geosciences for work on the geological controls for the distribution of chemosynthetic organisms in the deep-water regions of the Gulf of Mexico in 1995, right after being accepted into the astronaut program, which he began in March 1995.
Reilly's first space mission was STS 89 January 1998 when Endeavour visited the Russian space station Mir. His next trip to space, in July 2001, was more grueling; he flew aboard Atlantis on STS 104 and performed three spacewalks in helping to install an airlock on the International Space Station. In June 2007, he again rode Atlantis to the ISS on STS 117, when he performed two spacewalks devoted to station construction and maintenance. All told, Reilly spent more than 853 hours in space and performed 31 hours and 10 minutes of spacewalks.
Reilly left NASA the following year to join Photo Stencil in Colorado Springs as its vice president of research and development. At that time, Reilly also set up his own consulting firm, Mach 25 Management.
In 2010, Reilly left Photo Stencil to become dean of the School of Science and Technology for American Public University System, a private for-profit online college. Beginning in 2014, Reilly was a technical adviser, space operations, for the Air Force National Security Space Institute. Reilly also served as an officer in the U.S. Naval Reserve from 1999 until leaving the service in 2016 with the rank of lieutenant commander.
Reilly and his wife, Allison, who was a NASA employee he met on a trip to Scotland, have a son, Jacob. Reilly also has three adult children from a previous marriage to Jo Ann Strange.
-Steve Straehley
To Learn More:
Official Biography (National Aeronautics and Space Administration)
From Outer Space to Cyberspace: The Astronaut Turned Online Academic Dean (by Andrew Hibel, Higher Ed Jobs)
Retired Astronaut Picked to Lead U.S. Geological Survey (by Paul Voosen, Science)