Director of the Federal Bureau of Prisons: Who Is Mark Inch?
Wednesday, August 30, 2017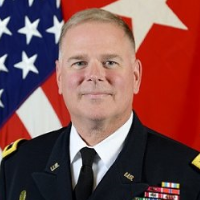 Mark Inch
Yet another general is joining the Donald Trump administration, this one a retired two-star. Mark S. Inch, who supervised the Army's prisons for two years, was named August 1, 2017, by Attorney General Jeff Sessions to head the federal Bureau of Prisons in the Department of Justice.
Inch is from Wheaton, Illinois, where he graduated from Wheaton North High School in 1978. He stayed close to home in college, earning a B.A. in biblical archaeology from Wheaton College in 1982. Inch was commissioned as a second lieutenant in the Army upon graduation.
Although Inch's early goal in the military was to become a chaplain, he was assigned to the military police. He worked his way up the chain of command, serving in the United States and around the world. As a major in 1993, Inch was sent by West Point, where he had been teaching, to work with the United Nations forces to oversee the police force in Mogadishu, Somalia. He also served at Fort Carson in Colorado and at Yokota Air Base in Japan.
Inch began to specialize in military incarceration. In 2000, he completed the Military Police pre-command course at Fort Leonard Wood, Missouri. He commanded the Fort Ord Area Confinement Facility in California and the 705th Military Police Battalion at the U.S. Disciplinary Barracks at Fort Leavenworth in Kansas.
Inch earned a master's degree in geography with a concentration in Middle East/Africa from the University of Texas in 2002 and another master's in military arts and sciences in 2005 from the Army Command and General Staff College.
In June 2006 he began serving as commandant of the Fort Leavenworth correctional facility.
Inch was sent to Iraq in June 2008 as chief of staff in Joint Task Force 134, which managed the imprisonment of Iraqis and others, a position he held until December 2009. In February 2010, Inch was named deputy provost marshal general in the Army Correctional Command, the No. 2 spot in the organization. He was also promoted to brigadier general. In September 2011, he took over as commandant of the Army Military Police school at Fort Leonard Wood, Missouri, and chief of the Military Police Regiment. He advised the members of the regiment: "We must live our Army Values and Warrior Ethos. We are warrior police; and through upholding our shared Army Values, we build trust. Our competence is learned, but our character is a daily choice."
Inch was sent overseas again, this time to Kabul, Afghanistan, from July 2013 until July 2014, as deputy commanding general and then commanding general of Combined Joint Interagency Task Force 435, which was responsible for prisoner operations after control of U.S.-run prisons had been transferred to Afghan authorities. According to a United Nations report, between February 2013 and December 2014, 35% of prisoners held in Afghanistan reported being subjected to mistreatment or torture, which the UN considered an improvement.
Inch returned home in 2014 as provost marshal general, a post he assumed on September 12 of that year and held until his September 2017 retirement, as well as serving until August 2016 as commanding general of the Army Criminal Investigation Command (CID) and Army Corrections Command. He was promoted to major general in October 2014,
In November 2016. Inch presented a painting of himself and other U.S. officers, along with Gen. Tullio Del Sette, the head of the Italian Carabinieri Corps and other Italian soldiers, to Del Sette as a gift from the U.S. military police to the Italian military police.
Inch has four children with his first wife, Barbara, an Army veteran, who died in February 2012: Michael, Matthew, Kaitlin and Karilyn. All but Karilyn served in the Army. Inch's second wife, Bettie, served as a Department of Defense civilian with the Sexual Assault Prevention and Response Office.
-David Wallechinsky, Steve Straehley
To Learn More:
Official Biography (pdf)
Can a General Conquer the Federal Prison System? (by Justin George, Marshall Project)
Patrol Debrief #5: The Servant Leader (Part 1) (MP Project Junto)