Director of the Bureau of Justice Statistics: Who Is Jeffrey H. Anderson?
Wednesday, January 24, 2018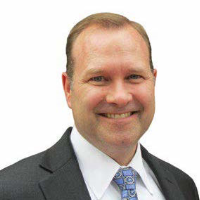 Jeffrey H. Anderson (photo: Hudson Institute)
The director of the Bureau of Justice Statistics (BJS), housed in the Justice Department's Office of Justice Programs, is traditionally an expert in statistics. Established in 1979, the bureau collects and publishes statistics on crime, prisons and related parts of the justice system. In Jeffrey Hagen Anderson, who was appointed to lead BJS by President Donald Trump on November 21, 2017, the agency has not a statistician, but a former political science professor who has spent much of the past decade criticizing efforts to expand healthcare.
Anderson's only background in statistics touted by the White House announcement of his nomination was his co-creating the Anderson & Hester computer rankings for college football. The rankings were among those used in the old Bowl Championship Series that seeded Division I college football championship games from 1998 to 2014.
Anderson attended four different high schools in four different states: Lake Braddock High School in Burke, Virginia; Bossier City High School in Bossier Parish, Louisiana; Medical Lake High School in Spokane County, Washington; and Parkway Central High School in Chesterfield, Missouri. In the fall of 1988, Anderson enrolled at the University of Washington, which he attended for just over three years, earning a B.A. in economics and political science in December 1991. He went on to do graduate work at Claremont Graduate University, earning an M.A. in politics in 1997 and a Ph.D. in political science in 2001.
Anderson started as a political science professor at the U.S. Air Force Academy in 2001. He remained there until 2008, when he became a speechwriter for Health and Human Services (HHS) Secretary Mike Leavitt. When the George W. Bush Administration left office, Anderson was named director of the Benjamin Rush Institute, a group of health professionals that works to discourage government efforts to ensure healthcare for all.
Anderson is a prolific writer for right-wing publications such as The Daily Standard, National Review, The Washington Times and the New York Post, primarily on healthcare issues. In 2013, Anderson and William Kristol founded the 2017 Project, which promotes such conservative ideas as substituting a voucher system for the Affordable Care Act; less regulation, particularly on environmental issues; lower taxes; and anti-immigrant issues. Anderson left the 2017 Project in 2015 to join the Hudson Institute as a senior fellow.
Anderson was an early endorser of Trump for president, and in May 2017 he was rewarded with an appointment to lead the Office of Health Reform at HHS. Just six months later, after the failure to repeal the Affordable Care Act, Anderson was appointed to lead BJS. Since 2012, the job has not required Senate approval.
-Steve Straehley
To Learn More:
Trump Names Ex-Hudson Institute's Anderson to Head BJS (by Ted Gest, Crime Report)
Official Biography (Hudson Institute)
Toss Personality. Use These Three Things To Judge Trump Versus Hillary (by Jeffrey H. Anderson, The Federalist)
The Main Street Tax Plan (by Jeffrey H. Anderson, Hudson Institute)
An Alternative to Obamacare (by Jeffrey H. Anderson, Hudson Institute)
A Republican Nomination Process (Jeffrey H. Anderson and Jay Cost, National Affairs)