Defense Dept. Task Force Spent $150 Million on Luxury Lifestyle in Afghanistan
Wednesday, December 09, 2015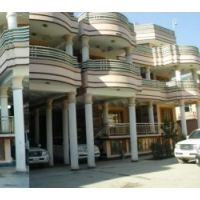 U.S. task force's luxury villa in Afghanistan (photo: SIGAR)
Pentagon officials charged with helping develop Afghanistan's economy spent five years wining and dining themselves on the public dime to the tune of $150 million.
The latest Afghanistan spending controversy centers on the Task Force for Business and Stability Operations (TFBSO), whose tiny staff somehow spent $150 million on "private villas, security guards and luxury meals while operating in the country between 2010 and 2014," The Intercept reported.
In a letter (pdf) to Defense Secretary Ashton Carter, John Sopko, the Special Inspector General for Afghanistan Reconstruction (SIGAR) pointed out that TFBSO had far less expensive options, such as quartering its personnel on military bases. Sopko said it was "unclear what benefit the U.S. received as the result of TFBSO's decision."
TFBSO received $766 million from Congress to rebuild Afghanistan's business infrastructure. About 20% of this was used on accommodations for TFBSO employees, who numbered between five and 10 employees, according to Sopko's office. The task force's spending on itself included "Western-style hotel accommodations," such as flat-screen televisions, mini-refrigerators and DVD players. TFBSO ate well too. Their meals were "at least 3 stars" and each offered "at least two entree choices and three side order choices."
TFBSO is the same group that spent $43 million on a natural gas refueling station in the northern Afghan town of Sheberghan, "roughly 140 times more than what analysts say the project should have cost," Murtaza Hussain wrote at The Intercept.
The resort-style lodgings were organized by Paul Brinkley, whom the George W. Bush administration put in charge of TFBSO in 2006 when it was still based in Baghdad, according to The Daily Beast. The following year, Brinkley was accused by members of his staff of mismanaging government money and engaging in public drunkenness and sexual harassment. Brinkley resigned from TFBSO in 2011, after he'd set up his employees in the Afghan villas.
-Noel Brinkerhoff, Steve Straehley
To Learn More:
Pentagon Task Force Spent Nearly $150M on Villas and 3-Star Meals in Afghanistan (by Murtaza Hussain, The Intercept)
Pentagon Crew Lived Large in $150 Million Afghan Villas (by David Axe, Daily Beast)
Defense Department Spent $150 Million on Villas, Private Security Guards in Afghanistan (by Lucy Westcott, Newsweek)
Letter to U.S. Defense Secretary Ashton Carter (John F. Sopko, Special Inspector General for Afghanistan Reconstruction) (pdf)
Pentagon Stonewalls U.S. Watchdog's Inquiries into $800 Million Afghanistan Program (by Noel Brinkerhoff, AllGov)
Latest Spending Outrage in Afghanistan: Pentagon's $43 Million Gas Station (by Noel Brinkerhoff, AllGov)