Commissioner of U.S. Customs and Border Protection: Who Is Kevin McAleenan?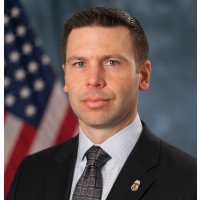 Kevin McAleenan
President Donald Trump's choice to lead U.S. Customs and Border Protection (CBP) has been running the agency on an acting basis since day one of his administration. Kevin McAleenan, whose nomination has won bipartisan support, oversees 60,000 employees and manages an annual budget of more than $13 billion. CBP, which is located in the Department of Homeland Security, focuses on regulating the flow of people and goods across U.S. international borders.
Trump announced his intention to nominate McAleenan on March 30, 2017, but didn't officially send his nomination to the U.S. Senate until May 22. Then McAleenan had to wait even longer, until October 24, for his confirmation hearing while anonymous allegations against him were investigated and debunked. If confirmed by the Senate, McAleenan would succeed R. Gil Kerlikowske, who served from March 2014 until the end of the Obama administration.
Born September 5, 1971, and raised in Hawaii, Kevin Kealoha McAleenan is the child of Michael McAleenan, currently a hearing officer in the L.A. County mental health court system, and Andrea (Hautala) McAleenan, now a special advisor to the president of Azusa Pacific University. When Kevin was a child his father earned a PhD in Sociology at the University of Hawaii and worked with at-risk youths at a Honolulu middle school. Kevin earned a B.A. in Political Science at Amherst College in 1994 and a J.D. at the University of Chicago Law School in 1998.
After law school, McAleenan practiced law in California for a few years, first at Sheppard, Mullin, Richter, & Hampton from October 1998 to February 2000, and then at Gunderson Dettmer from February 2000 to October 2001.
In the wake of the terror attacks of September 11, 2001, McAleenan decided to refocus his career onto national security issues. He first applied to the FBI, but he was soon contacted by Robert Bonner, who had been recently confirmed as the commissioner of the U.S. Customs Service (later renamed CBP). In November 2001, McAleenan moved to Washington DC and set to work establishing the embryonic Office of Antiterrorism in Washington, DC. Two years later, he was promoted to its executive director.
In 2006, McAleenan returned to Los Angeles to serve as the Area Port Director at Los Angeles International Airport, directing CBP's border security operations at LAX and 17 other airport facilities in the L.A. area.
McAleenan left public service in February 2008, taking a job as vice president at The Sentinel HS Group, LLC, a homeland security consulting firm founded in Vienna, Virginia, in 2005.
Two years later, in May 2010, McAleenan returned to CBP as deputy assistant commissioner in the Office of Field Operations (OFO), and rose to assistant commissioner in January 2012. He led OFO, CBP's largest component, in securing the U.S. border at ports of entry.
From April 2013 to January 20, 2017, McAleenan served as deputy commissioner of CBP, functioning as the agency's chief operating officer and senior career official.
Kevin McAleenan is married to Corina Avalos McAleenan, a consultant at Deloitte, with whom he has two daughters.
-Matt Bewig
To Learn More:
Trump Pick to Build Wall Up for Confirmation After Allegations Debunked (by Julia Ainsley, NBC News)
A Conversation on Leadership with the Deputy Commissioner of U.S. Customs and Border Protection (by Tom Fox, Washington Post)
Man with Hawaii Roots on Verge of Top Border Enforcement Post (by Kirstin Downey, Honolulu Civil Beat)
Written Testimony of U.S. Customs and Border Protection Office of Field Operations Assistant Commission Kevin McAleenan for a House Committee on Homeland Security, Subcommittee on Border and Maritime Security Hearing tTtled "Eleven Years Later: Preventing Terrorists from Coming to America."