Commissioner of the Food and Drug Administration: Who Is Scott Gottlieb?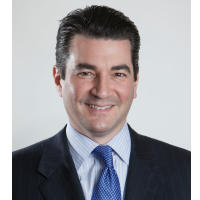 Scott Gottlieb
Scott Gottlieb, a physician who has spent most of his career working in government and the investment world rather than patient care, was confirmed by a 57-42 U.S. Senate vote on May 9, 2017, to be commissioner of the Food and Drug Administration (FDA). Founded in 1906, the FDA regulates the manufacturing, testing and distribution of a wide variety of products, including prescription and non-prescription drugs, tobacco, cosmetics, bottled water, dietary supplements, vaccines, medical devices ranging from surgical implants to bedpans, devices that give off radiation ranging from x-ray machines to microwave ovens, pet foods and livestock feed.
Gottlieb is from New Jersey. He grew up in East Brunswick, son of Stanley, a psychiatrist, and Marsha Gottlieb. Gottlieb attended Wesleyan University in Connecticut, where he was editor of the school paper, and graduated with a B.A. in economics in 1994. He worked for a year as an investment banking analyst at Alex Brown and Sons before going to medical school. Gottlieb attended Mount Sinai School of Medicine at NYU, earning his M.D. in 1999 and finishing his residency in internal medicine there in 2002.
Gottlieb joined the FDA for the first time in 2003 as a senior adviser to Commissioner Mark McClellan. In February 2002, he became a resident fellow at the American Enterprise Institute, a right-wing think tank, a position he continued to hold at the time of his nomination for FDA commissioner with an annual income of $210,916. In 2004, Gottlieb served as director of medical policy development before moving that year to the Centers for Medicare and Medicaid Services as senior adviser to the administrator, when McClellan took over that position. Gottlieb returned to the FDA in 2005 as deputy commissioner for medical and scientific affairs. During this period, he underwent successful treatment for Hodgkin's lymphoma.
Gottlieb left the FDA in 2007 to become a partner in New Enterprise Associates, a venture capital firm that has worked with 188 different health care companies. His annual consulting fee for New Enterprise is $280,000. According to Gottlieb's ethics disclosure document (pdf), he owns shares in the following clients of New Enterprise: American Pathology Partners; Bright Health; Collective Health; Golden State Medical; Radiology Partners; and U.S. Renal Care.
In fact, Gottlieb's financial disclosure reads like a medical industry Yellow Pages. As of his nomination, he served on the boards of MedAvante (since September 2007), American Pathology Partners (since March 2012), Glytec (since March 2013) and Daiichi Sankyo (since April 2015). He also served on the board of directors of Molecular Insight Pharmaceuticals (from September 2007 until November 2010), CombiMatrix (from January 2009 until December 2016), Bravo Health (from September 2009 until September 2011), Gradalis and Strike Bio (from June 2014 until March 2017), Aptiv Solutions (from July 2012 until June 2014, Tolero Pharmaceuticals (from March 2015 until December 2016), and Emmaus Life Sciences (from August 2015 until December 2015).
He has also been, since January 2010, on the product investment board of pharmaceutical giant GlaxoSmithKline.
He was a senior adviser to rare disease drug maker Vertex Pharmaceuticals from September 2007 until August 2016. In 2014, he co-founded and served as president and co-CEO of Cell Biotherapy, a position he held at the time of his nomination. He also worked as a consultant for Bristol-Myers Squibb. He was acting co-CEO of Tivorsan Pharmaceuticals from December 2016 until March 2017.
"He's basically been a shill for pharmaceutical corporations for much of his career," Dr. Michael Carome, director of Public Citizen, a consumer rights watchdog group, told CNN, "and that has no doubt framed his thinking."
In April 2013, Gottlieb was made a managing director of T.R. Winston and Co., a merchant bank. One of Winston's clients, Kure, is a manufacturer of vaping products. Gottlieb, who if confirmed as FDA commissioner will have to make decisions about vaping regulation, was on Kure's board from March 2015 to May 2016 and continues to have a financial interest in the company, according to Bloomberg. Gottlieb also holds financial interest in thirteen medical companies that are Winston clients. Winston-related income made up sixty percent of Gottlieb's earnings of $3 million since the start of 2016.
Gottlieb has promised to sell his holdings in companies the FDA regulates to mitigate any financial conflicts and to recuse himself—for one year—from decisions related to the 20 health care companies he has worked with. Conflicts of interest are not new for Gottlieb; when he served at the FDA in the George W. Bush administration, he had to recuse himself from nine major decisions because of previous ties to companies he was regulating. His main thrust then, though, was to rush drugs to market and he would send accusatory emails to scientists who rejected drugs.
Not surprisingly, President Donald Trump's choice of Gottlieb to head the FDA has been welcomed with delight by Big Pharma, and his ties to the investment world should make him fit right in the Trump administration. One area in which he differs with Trump is on vaccines—Gottlieb has said that the idea of a link between autism and vaccines has been thoroughly studied and "there is no causal link."
Since 2011, Gottlieb has also been a clinical assistant professor at NYU. He has been a member of the Federal Health IT Policy Committee since 2013. He also writes for Forbes and is a regular health policy commentator on television news. He has testified before Congress 18 times.
Gottlieb and his wife, Allyson, have three young daughters. Strange as it seems, despite Gottlieb's considerable financial success, he still owes money for two student loans he took out in 1995 and refinanced in 2002.
-Steve Straehley, David Wallechinsky
To Learn More:
Vaping Venture Poses Potential Conflict for Trump's FDA Nominee (by Zeke Faux , Dune Lawrence and Jennifer Kaplan, Bloomberg)
Scott Gottlieb: Conflicts Surround Trump's FDA Pick (by Sandee LaMotte, CNN)
F.D.A. Nominee, Paid Millions by Industry, Says He'll Recuse Himself if Needed (by Katie Thomas, New York Times)
A Statistical Guide to Scott Gottlieb, President Donald Trump's Pick to Head the FDA (by Sydney Lupkin, MedCityNews)
Scott Gottlieb's Executive Branch Personnel Public Financial Disclosure Report (pdf)
Financial Disclosure Letter (pdf)
Scott Gottlieb (LinkedIn)
Scott Gottlieb's Payments Received from Pharmaceutical Companies 2013-2015 (CMS Open Payments Data)
The Strange Career of Scott Gottlieb (by Martha Rosenberg, Counterpunch