CIA Admits it Spied on Senate Intelligence Committee and Lied about It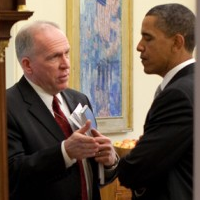 CIA Director John Brennan and President Obama (photo: Pete Souza, White House)
The Central Intelligence Agency (CIA) made more than a few enemies on Capitol Hill this week when it admitted to spying on a Senate committee investigating the agency's torture and detention program under President George W. Bush.
Senator Dianne Feinstein (D-California), chair of the Senate Intelligence Committee, accused the CIA in March of snooping on her staffers while they combed through agency documents on the program, all with the supposed cooperation and blessing of CIA officials.
The CIA denied the spying then. But the agency's inspector general (IG), David Buckley, revealed on Thursday that the CIA, indeed, had spied on the committee while it carried out its probe. Two CIA lawyers and three agency information technology specialists improperly accessed or "caused access" to a database that only committee staff members were permitted to use, according to Buckley.
The IG also reported that when the CIA requested the Department of Justice to prosecute some of Feinstein's staffers for allegedly removing classified information from the agency's possession, it did so based on false information.
A CIA spokesman announced that in light of the IG's findings, John Brennan, the agency's director, had apologized to Feinstein and Senator Saxby Chambliss of Georgia, the committee's ranking Republican member.
Brennan also said he would create an internal accountability board, headed by former Sen. Evan Bayh (D-Indiana), to review the issue, which could lead to disciplinary action for those involved in spying on the committee.
But the apology and the promised response was not enough to calm the anger felt by many senators after hearing of the IG report. Chambliss called for the CIA employees to be "dealt with very harshly."
Committee member Mark Udall (D-Colorado) demanded that Brennan resign.
"The CIA unconstitutionally spied on Congress by hacking into the Senate Intelligence Committee computers," he said in a statement. "This grave misconduct not only is illegal but it violates the U.S. Constitution's requirement of separation of powers."
He added: "These offenses, along with other errors in judgment by some at the CIA, demonstrate a tremendous failure of leadership, and there must be consequences."
Another committee member, Sen. Martin Heinrich (D-New Mexico) also called for the director to go. "I think it would be better for the agency if Director Brennan stepped aside," Heinrich said.
Angus King (I-Maine) also was critical of the agency. "We're the only people watching these organizations, and if we can't rely on the information that we're given as being accurate, then it makes a mockery of the entire oversight function," he told McClatchy.
The report at the heart of the controversy is being reviewed by the Obama Administration and is expected to be released soon. On Friday, the White House inadvertently emailed a copy of talking points dealing with the report to an Associated Press reporter.
A State Department proposed statement in the document read that the report "leaves no doubt that the methods used to extract information from some terrorist suspects caused profound pain, suffering and humiliation. It also leaves no doubt that the harm caused by the use of these techniques outweighed any potential benefit."
-Noel Brinkerhoff, Steve Straehley
To Learn More:
CIA Admits It Broke into Senate Computers; Senators Call for Spy Chief's Ouster (by Jonathan Landay and Ali Watkins, McClatchy)
Inquiry by C.I.A. Affirms It Spied on Senate Panel (by Mark Mazzetti and Carl Hulse, New York Times)
CIA Director John Brennan Apologizes for Search of Senate Committee's Computers (by Greg Miller, Washington Post)
The White House Accidentally Emailed Reporters Talking Points About The Still-Classified CIA Torture Report (by Ken Dilanian, Associated Press)
CIA Spied on Senate Committee Investigating CIA (by Steve Straehley, AllGov)