CIA Spied on Senate Committee Investigating CIA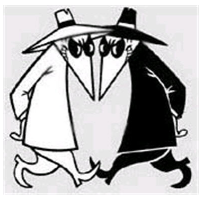 The Senate Select Committee on Intelligence worked for four years investigating the Central Intelligence Agency's use of waterboarding and other harsh interrogation techniques on suspected terrorists held overseas during the George W. Bush Administration. Now the Senate believes the CIA was spying on its staffers as they investigated the agency.
The committee found earlier this year that the CIA had been monitoring computers used by Senate staffers to compile the report. Now, the CIA's inspector general has asked the Justice Department to begin an investigation that might be tied to the allegations of CIA misconduct tied to the Senate probe, according to a McClatchy report. The CIA forced the committee staffers to use computers at the agency's Langley, Virginia, headquarters for their research.
The committee completed the report in 2012, but submitted the report to the CIA for vetting. Since then, the report has been in limbo with none of it available to the public. But committee members have said it discussed how CIA personnel misled Congress and the Bush administration about the techniques it was using to interrogate prisoners. It also shows, according to committee members, that the harsh techniques did not result in the information that led to the capture of Osama bin Laden in 2011.
Sen. Mark Udall (D-Col0rado), a member of the Intelligence Committee, has sent a letter to President Barack Obama decrying the monitoring. "As you are aware, the CIA has recently taken unprecedented action against the committee in relation to the internal CIA review and I find these actions to be incredibly troubling for the committee's oversight responsibilities and for our democracy," Udall wrote. "It is essential that the committee be able to do its oversight work–consistent with our constitutional principle of the separation of powers–without the CIA posing impediments or obstacles as it is today."
Udall also wants to take the decision on how much of the report should be made public out of the hands of the CIA. "It is my belief that the declassification of the Committee Study is of paramount importance and that decisions about what should or should not be declassified regarding this issue should not be delegated to the CIA, but directly handled by the White House," Udall wrote.
Disputes between the Senate committee and the intelligence agencies are rare. Committee chair Sen Dianne Feinstein (D-California) confirmed the existence of an investigation by the inspector general and was asked about the tension between the committee and the agency. "Our oversight role will prevail," she told The New York Times.
-Steve Straehley
To Learn More:
Probe: Did the CIA spy on the U.S. Senate? (by Jonathan S. Landay, Ali Watkins and Marisa Taylor, McClatchy)
Revealed: CIA allegedly spied on Senate committee investigating the CIA (by John Byrne, Raw Story)
C.I.A. Employees Face New Inquiry Amid Clashes on Detention Program (by Mark Mazzetti, New York Times)
Congressional Oversight of NSA…Blink and You'll Miss It (by Noel Brinkerhoff, AllGov)
Would the CIA Lie to Congress? Of Course! (by Noel Brinkerhoff, AllGov)