Chair of the U.S. Commission on Civil Rights: Who Is Catherine Lhamon?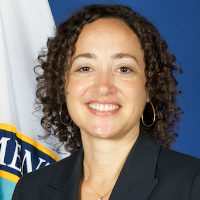 Catherine Lhamon
Catherine Lhamon is the chair of the U.S. Commission on Civil Rights. President Barack Obama appointed her to a six-year term on December 15, 2016, and the Commission unanimously confirmed her as chair on December 28, 2016. Although the 60-year-old Commission lacks the authority to enforce civil rights laws, it plays an important role in publicizing discrimination of all kinds and pointing out solutions, which will likely be important over the next few years of the regimes of President Donald Trump and Attorney General Jeff Sessions. On April 6, 2017, Lhamon characterized the policy shift of the new administration by saying, "The backstop that has been the civil rights enforcement of the federal government is no more." Four of the Commission's eight members are appointed by the president and four by Congress.
Born August 5, 1971, Catherine Elizabeth Lhamon learned about racism and civil rights early on, as her parents were activists, and she was the product of a mixed-race marriage; the Supreme Court had overturned laws against such marriages only a few years earlier. She earned a B.A. in American Studies at Amherst College in 1993 and a J.D. at Yale Law School in 1996, where she was named Outstanding Woman Law Graduate.
After law school, Lhamon served a year as a judicial law clerk for Judge William A. Norris on the United States Court of Appeals for the Ninth Circuit, and was supervising attorney in the Appellate Litigation Program at Georgetown University Law Center from 1997 to 1999.
Relocating to the West Coast in 1999, Lhamon practiced law for a decade at the ACLU of Southern California, serving as Okrand/Wirin Attorney from 1999 to 2005, racial justice director from 2005 to 2009, and assistant legal director in 2009. She left the ACLU that year to become director of impact litigation at Public Counsel, the nation's largest pro bono law firm.
Lhamon returned to Washington, DC, in 2013 to serve as the assistant secretary for civil rights at the Department of Education. Nominated by President Obama to the position in June 2013, she was unanimously confirmed by the Senate on August 1, 2013. While there, Lhamon spearheaded efforts to combat sexual assault on college campuses. Her approach of forcing schools to adopt policies and procedures for investigating and adjudicating assault allegations was sharply criticized, not only by conservatives but by liberals as well, for not respecting the rights of accused persons.
Lhamon is married to Giev Kashkooli, who is a high-ranking official of the United Farm Workers union. The couple has two daughters, Danielle and Clay.
-Matt Bewig
To Learn More:
Gruber Distinguished Lecturer in Women's Rights: Catherine E. Lhamon '96 (Yale Law School)
Feds' Civil Rights Steward Faces A "Rocky Road" Under Trump (by Nidhi Subbaraman, BuzzFeed)