Bipartisan Senate Bill would Increase Regulation of Cosmetics Industry for First Time in 77 Years
Wednesday, April 22, 2015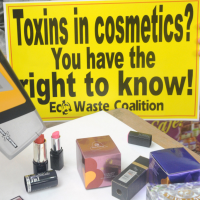 (photo: AFP/Getty Images)
It has taken nearly 80 years but the cosmetics industry may finally come under stronger oversight from the federal government.
Makers of lipstick, skincare and other cosmetics have enjoyed 77 years of freedom from the Food and Drug Administration, which has little authority to force companies to do things such as issue mandatory recalls for defective products.
The problem goes back to the Food, Drug and Cosmetic Act of 1938 (pdf), which led to the FDA being given "fewer than a dozen pages of instructions for how to regulate the millions of lipsticks, moisturizers and other cosmetics sold each year," according to The New York Times. But legislation introduced in the Senate would change that.
The proposal would require companies to report "serious" adverse health effects from consumers, such as reactions to products that result in death, disfigurement or hospitalization, within 15 business days. Non-serious events, such as rashes, would have to be detailed in an annual report.
The bill, co-sponsored by Democratic Senator Dianne Feinstein of California and Republican Susan Collins of Maine, is backed by the cosmetics industry and liberal advocacy organizations, like the Environmental Working Group.
"This bill is the best hope for meaningful cosmetics regulation in many years," Scott Faber, vice president of government affairs for the Environmental Working Group, told the Times.
-Noel Brinkerhoff
To Learn More:
Bill Would Give FDA More Muscle on Cosmetics (by Rachel Abrams, New York Times)
Senate Bill (Senator Dianne Feinstein)
New State Cosmetics Database Gives Consumers Bad News about Their Favorite Products (by Ken Broder, AllGov California)
Perfume and Cologne Makers Add Untested Chemicals to Products (by Noel Brinkerhoff, AllGov)