Ambassador to South Sudan: Who Is Thomas Hushek?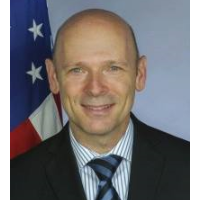 Thomas Hushek
The six-year-old African nation of South Sudan, currently being torn apart by a civil war between the government and the rebel group SPLM/IO (Sudan People's Liberation Movement-in-Opposition), will soon have a U.S. Ambassador whose most recent job has been to defuse conflict. Nominated on August 3, 2017, Thomas Hushek has served as acting assistant secretary of state for conflict and stabilization operations since August17, 2015. If confirmed by the Senate, Hushek will succeed Mary Catherine (Molly) Phee, who has served in Juba since July 2015.
Born in 1963 in Wisconsin, Thomas Joseph Hushek grew up in the Milwaukee suburb of Hales Corners. He earned a B.A. in Political Science at the University of Wisconsin in 1985 and a Masters in International Affairs at Columbia University's School of International and Public Affairs in 1987.
In May 1986, Hushek, along with several hundred other Columbia students and professors, signed an open letter in the Columbia Spectator opposing President Ronald Reagan's Strategic Defense Initiative, also dubbed Star Wars. The letter argued that, "Star Wars…is a Trojan horse. [It] is not technically feasible; it will escalate the nuclear arms race by spurring the development of additional Soviet offensive weapons and competition in anti-ballistic missile systems; and, it will undermine existing arms control agreements and future negotiations."
During the summer of 1986, Hushek worked as a human rights-related intern in Pakistan, telling a reporter at the Columbia Spectator that it "gave me a lot of ideas about what I want to do when I get out of here."
What he did was join the State Department not long after graduating Columbia. A career Foreign Service Officer, Hushek's early overseas postings included Khartoum, Sudan, and Moscow, Russia, while stateside assignments included the Office of the U.S. Trade Representative and the Department's Bureau of Democracy, Human Rights, and Labor.
He served as Afghanistan/Pakistan desk officer from 1997 to 1999, and then went to the region to serve as Afghan refugee coordinator in Islamabad, Pakistan, and Kabul, Afghanistan, from 1999 to 2002.
After three years in a danger zone, Hushek served as deputy chief of mission at the U.S. Embassy in Kolonia, Micronesia, in the Pacific, from 2002 to 2004. He then returned to South Asia as the senior civilian representative at the Herat, Afghanistan, Provincial Reconstruction Team and Regional Command West, from 2004 to 2005.
In Central Asia, Hushek served as deputy chief of mission at the U.S. Embassy in Dushanbe, Tajikistan, from 2006 to 2008,and then returned stateside to serve as director for Central Asia in the Bureau for South and Central Asian Affairs from 2008 to 2010. Also in Washington, Hushek served as director for Europe, Central Asia, and the Americas in the Bureau of Population, Refugees, and Migration from 2010 to 2012.
Hushek returned to Afghanistan as the director for International Narcotics and Law Enforcement in Kabul from 2012 to 2013, and then served as deputy chief of mission at the U.S. Mission to the International Organizations in Vienna from 2013 to 2015.
Thomas Hushek speaks Russian and Dari, one of the two official languages spoken in Afghanistan.
-Matt Bewig
To Learn More:
Trump Nominates Career Diplomat as South Sudan Ambassador (MessengerAfrica)
State Department Cables 2006-2009 (WikiLeaks)
SIPA Students Intern Abroad (by Randi M. Albert, Columbia Spectator)
Columbia Speaks Out Against Star Wars (Columbia Spectator)