After Giving Millions to Lawmakers Who Control Pentagon Spending, Northrop Awarded $21 Billion Bomber Contract
Wednesday, November 04, 2015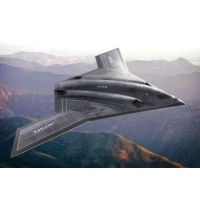 Long Range Strike bomber concept (graphic: Northrup Grumman)
Northrop Grumman, one of the nation's largest defense contractors, turned a million-dollar lobbying investment into a billion-dollar contract bonanza.
The weapons maker last week was announced as the winner of a $21.4 billion contract from the U.S. Air Force to build at least 21 stealth bombers.
The lobbying figure was compiled by the Center for Public Integrity, which examined five years' worth of expenditures by Northrop Grumman. The investigation revealed the defense contractor contributed $4.6 million to the campaigns of 224 lawmakers since 2010, demonstrating a long-range lobbying strategy devised to win the contract to build Long Range Strike bombers.
The Center's Alexander Cohan wrote the Northrop Grumman deal "will be the second- largest military program in 14 years, exceeded only by the Joint Strike Fighter, manufactured by Lockheed Martin." The F-35 Joint Strike Fighter has had myriad problems and has compared unfavorably to decades-old aircraft already in service with the Air Force and Navy.
Lobbying disclosures revealed that Northrop Grumman spent $85.4 million to lobby Congress, the Pentagon and other agencies on the bomber program as well as other military spending issues. It also hired more than 100 lobbyists and others, including five former members of Congress, to work specifically on defense issues.
The losers in the process were Lockheed Martin and Boeing, which put in a combined bid for the contract.
-Noel Brinkerhoff
To Learn More:
New Strategic Bomber Contract Awarded After Millions of Dollars' Worth of Lobbying (by Alexander Cohan, Center for Public Integrity)
The Hidden Battle to Build the New Stealth Bomber (by Philip Ewing and Leigh Munsil, Politico)
Fighting Caps on Military Budget, Top Defense Contractors Increase Lobbying Budget by 25% (by Noel Brinkerhoff, AllGov)
Congress Overrules Pentagon to Fund Northrop Grumman Drones (by Matt Bewig, AllGov)