Congress Overrules Pentagon to Fund Northrop Grumman Drones
Monday, November 11, 2013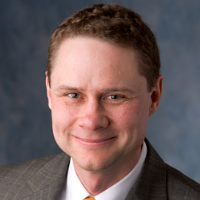 Wes Bush, chairman, CEO and president of Northrop Grumman
Weapons maker Northrop Grumman (2012 revenues: $25.218 billion) made it rain on Congress to the tune of $31 million in lobbying spending since the beginning of 2012, and in return Congress has passed legislation ordering the Air Force to purchase the arms maker's RQ-4 Global Hawk, a high-altitude surveillance drone the military canceled nearly two years ago.
Originally pitched as a $35 million money-saver during the parsimonious Clinton years, Global Hawk costs rose over time by 284%, according to the Congressional Research Service, mostly because of the Air Force's changing requirements, and each drone is now estimated to cost about $220 million.
Although serious doubts had arisen by early 2011, when the Pentagon's director of operational test and evaluation said that Global Hawk "was not operationally effective for conducting near-continuous, persistent ISR [Intelligence, Surveillance and Reconnaissance] operations," in June 2011 Air Force officials certified the project as "essential to national security" in order to ensure continued Congressional funding.
Nevertheless, in January 2012 the Air Force announced a 180-degree turn: It had decided to terminate the Global Hawk program and rely instead on the mainstay spy plane of U.S. intelligence since the early days of the Cold War, the U-2, manufactured by the world's largest weapons maker, Lockheed-Martin (2012 revenues: $47.182 billion). The Air Force determined that Global Hawk cost too much and was too limited in its ability to fly during stormy weather, among other reasons for killing the drone.
But Northrop Grumman did not give up, explains Loren Thompson of the Lexington Institute, an Arlington-based think tank that has been criticized as "the defense industry's pay-to-play ad agency" for taking contributions from arms makers. "When the military customer began to doubt its desire for these unmanned systems, Northrop turned to Congress, [and] tried to use congressional leverage as a way to stop those programs from losing their funding."

In other words, in addition to the $31 million of lobbying, Northrup's PAC has contributed more than $4 million to congressional campaign coffers in a concerted push to save the Global Hawk.
And it has worked.
In the 2013 National Defense Authorization Act signed in January, Congress ordered the Air Force to fly and maintain its 18 Global Hawks through 2014 and mandated that no money "may be obligated or expended to retire, prepare to retire, or place [them] in storage." Even better for Northrop, the 2013 Defense Appropriations Act commanded the Air Force to order three more Global Hawks that had been budgeted in 2012. Most recently, in June, the House Armed Services Committee voted to force the Air Force to use the Global Hawks until at least 2016.
But the Air Force continues to resist. As one officer said, "Why are they making us spend money on something we don't want or need?"
-Matt Bewig
To Learn More:
Northrop Grumman's Drone Campaign (by Brandon Conradis, Open Secrets)
Will Congress Let the Air Force Abandon the Global Hawk? (by Aram Roston, Defense News)