Administrator of the National Aeronautics and Space Administration (NASA): Who Is Jim Bridenstine?
Monday, September 18, 2017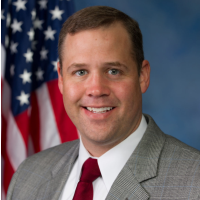 Jim Bridenstine
James Frederick Bridenstine, a three-term Republican congressman from Oklahoma, was announced September 1, 2017, as President Donald Trump's nominee to lead the National Aeronautics and Space Administration (NASA). Bridenstine is a strong supporter of private sector involvement in space exploration and weather and communications satellites. Although Bridenstine has a sincere interest in space in general and NASA in particular, his extreme right-wing views, including climate change denial, have drawn criticism from scientists and even politicians from his own party.
Bridenstine was born June 15, 1975, in Ann Arbor, Michigan. He spent his formative years in Arlington, Texas, and then, while in high school, moved with his parents to the Tulsa area. He graduated from Jenks High School after being named swimmer of the year. He went to Rice University on an athletic scholarship, and an extra year in school because of an injury allowed him to triple major in economics, psychology and business. He graduated in 1998.
Bridenstine joined the Navy after college and trained as an aviator. He initially flew EC-2 Hawkeye early warning and control planes over Iraq and Afghanistan and then transitioned to the Navy's top-line fighter, the F/A-18. Bridenstine was assigned to fly a profile as an enemy pilot as Navy pilots went through training. He left active duty in 2007, but continued in the reserves, leaving in 2012 as a lieutenant commander.
In 2007, Bridenstine joined defense contractor Wyle Laboratories as a subject matter expert in the E2-D. He also became involved in a speculative Rocket Racing League. The idea was to race rocket planes in a setup patterned after the NASCAR stock car racing circuit. One demonstration run was made in 2010, but nothing else came of the league.
Bridenstine was named executive director of the Tulsa Air and Space Museum in 2008. Under his leadership, the museum ran a deficit while Bridenstine made an unsuccessful long-shot bid to bring a retired space shuttle orbiter to Tulsa. He left the museum in 2010, supposedly on good terms, but when Bridenstine began his bid for a congressional seat, one of the museum's board members, Jim Bertelsmeyer, said: "The best day for the museum was the day that Jim Bridenstine left. While I respect Jim's service to our country as an aviator, I can't imagine how he is qualified to run a congressional district if, in my judgment, he can't effectively manage our air and space museum."
While at the museum, Bridenstine began work on his MBA at Cornell University, which he earned in 2009.
He worked as a network-centric warfare subject matter expert for Deloitte Consulting in 2010 and returned to his previous role at Wyle the next year.
In 2011, as Bridenstine geared up for his congressional race, he became a marketing consultant for Dr. Robert Zoellner and Associates, an optometry practice in Tulsa, although he was unable to tell interviewers later what he'd done in that job. However, Zoellner's brother Erik was Bridenstine's campaign manager, and several members of Zoellner's family donated to Bridenstine's campaign.
Bridenstine, supported by the Tea Party, knocked off five-term Congressman John Sullivan in the Republican primary for the Oklahoma First Congressional District nomination in 2012 and easily defeated his Democratic challenger in the general election.
Bridenstine confirmed his status as a climate-change denier in a June 11, 2013, speech to the House of Representatives. "Global temperatures stopped rising 10 years ago," he said. "Global temperature changes, when they exist, correlate with sun output and ocean cycles." In 2015, he became chairman of the House Committee on Science, Space and Technology's Subcommittee on Environment.
Beginning in 2015, Bridenstine was involved in an ethics controversy when it came out that in May 2013 he and nine other members of Congress and some staffers took a trip to Azerbaijan that was found to have been paid for by that country's government-owned oil company. Bridenstine also received two rugs, one valued at $2,500 and another at $3,500. He ultimately returned the rugs.
In April 2016, Bridenstine introduced the American Space Renaissance Act, which emphasized that NASA should return to its original mission of human exploration and exploring the cosmos, instead of becoming a "jack of all trades"
Bridenstine initially backed Sen. Ted Cruz (R-Texas) for the 2016 Republican presidential nomination, but subsequently jumped on the Donald Trump bandwagon. After the election, Bridenstine started lobbying for a job in the new administration, either the NASA post or secretary of the Air Force. As he began to position himself for the NASA nomination, Bridenstine deleted most of the social media posts, many containing speeches denying climate change, made by his campaign.
The nomination of a politician as NASA administrator drew some unlikely opposition. Sen. Marco Rubio (R-Florida) even came out against the choice, saying: "NASA is at a critical juncture in history, and it is important that its mission remain free of politics and partisanship. I want to be without reservation because the space industry is too important to Florida's economy. The agency cannot afford controversy or a delay in the nomination process."
Bridenstine and his wife, Michelle, have three children: Walker, Sarah and Grant.
-Steve Straehley
To Learn More:
Parts of Trump NASA Pick's Online Presence Scrubbed (by Andrew Kaczynski, CNN)
Trump Nominates Oklahoma Politician and Climate Skeptic to Run NASA (by Ben Guarino, Washington Post)
Trump Pick to Head NASA Faces Fight Over Climate Comments (by Kevin Freking, Associated Press)
Why Congress's Newest Space Advocate Says the U.S. Faces a "Sputnik Moment" (by Christian Davenport, Washington Post)
10 Members of Congress Took Trip Secretly Funded by Foreign Government (by Scott Higham, Steven Rich and Alice Crites, Washington Post)
Rocket to the Moon (by Holly Wall, This Land)
Jim Bridenstine a Challenger for Dist. 1 (by David Jones, GTR Newspapers)