Administrator of the Agricultural Marketing Service: Who Is Elanor Starmer?
Thursday, January 05, 2017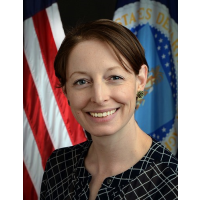 Elanor Starmer
Elanor Starmer, who has worked on agricultural policy issues her entire career, was named in February 2016 to be the administrator of the Agricultural Marketing Service (AMS), which promotes the sale and distribution of U.S. agricultural products.
Starmer is from New England, living in New Hampshire and Massachusetts. She attended Milton Academy near Boston, where her parents, Nancy and Jack, taught. Starmer's early career was spent studying Latin American agriculture, which she credits to her mother's specialty, Latin American history, and having grown up in a farming community in New Hampshire. She graduated from Milton in 1996 and went on to earn a B.A. in public policy from Brown in 2000.
After graduation, she became a program associate for Colombia and Central America for the Latin American Working Group, focusing on development and human rights issues. Starmer returned to college, this time at Tufts, earning an M.A. in development economics from the Fletcher School as well as an M.S. in agriculture, food and environmental policy from the Friedman School in 2007. While there, she and Timothy A. Wise did a study, "Feeding at the Trough: Industrial Livestock Firms Saved $35 Billion from Low Feed Prices," looking at how commodity subsidies benefit big agriculture.
After leaving Tufts, Starmer worked for a year as a consultant at the Natural Resources Defense Council, then in 2008 was made Western Region director for Food & Water Watch, where she managed organizers.
Starmer joined the U.S. Department of Agriculture in 2011, initially working for the Deputy Secretary of Agriculture developing the "Know Your Farmer, Know Your Food" program. In 2013, she was made coordinator and adviser for local and regional food systems and in 2015, Starmer was made a senior adviser to Secretary Tom Vilsack.
Not long after starting at the Agricultural Marketing Service, Starmer had to defuse a controversy when one of the checkoff groups under the service's supervision, the American Egg Board, was accused of trying to thwart the sales of an eggless mayonnaise. The head of the egg board stepped down and was replaced by Starmer's predecessor at the AMS, Anne Alonzo.
Starmer is married to Kumar Chandran, chief of staff to Agriculture Undersecretary Kevin Concannon. They have one son. Starmer sits on the board of her neighborhood association in Washington, D.C.
-Steve Straehley
To Learn More: