Administrator of the Agricultural Marketing Service: Who Is Anne Alonzo?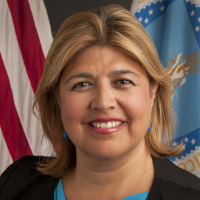 On May 6, 2013, Anne L. Alonzo was appointed to lead the Agricultural Marketing Service, the arm of the U.S. Department of Agriculture that promotes the sale and distribution of American agricultural products.
Alonzo was born and grew up in Chicago, attending local schools. She assumed she'd end up as a secretary so she took shorthand and typing classes. However, Alonzo earned a B.A. in political science and government from the University of Illinois-Chicago. She then went to work in a law firm and was inspired to go to law school, and so went to the Illinois Institute of Technology's Kent College of Law and earned a J.D. in 1984.
She then took a job as senior regional counsel at the Region V office of the Environmental Protection Agency in Chicago. She stayed there until 1990 when she got a chance to be the first Eenvironmental attaché at a U.S. Embassy, assigned to Mexico City. While there, Alonzo worked on the environmental provisions of the North American Free Trade Agreement (NAFTA).
In 1994, Alonzo moved over to the Commerce Department as a deputy assistant secretary in the International Trade Administration. Her emphasis was working to develop emerging markets.
Alonzo left government service in 1998 to become vice president for public and government affairs for oil company Amoco. However, that was right before the company was absorbed by BP. In 2000, Alonzo earned a Master's in Business Administration from the University of Chicago. That year she also was named senior vice president of the National Foreign Trade Council, a post she held for seven years. In that position she was active in gaining congressional support for the Dominican Republic/Central America Free Trade Agreement.
Alonzo jumped at the chance to return to her hometown in 2007 when she was offered the post of vice president for global public policy and corporate affairs for Kraft Foods. She handled issues of tariffs; tax and trade; and sustainability. While at Kraft, Alonzo in 2010 was named chair of the World Cocoa Foundation.
-Steve Straehley
To Learn More:
A Journey through the Global Village (Chicago Booth Magazine)