Administrator of the Administration for Children and Families: Who Is Lynn A. Johnson?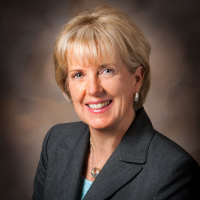 Lynn A. Johnson
The next safety net chief will be Lynn A. Johnson, currently executive director of the Jefferson County (Colorado) Department of Human Services. She is President Donald Trump's nominee to become assistant secretary and administrator of the Administration for Children and Families (ACF) at the Department of Health and Human Services. ACF oversees and finances social and economic programs for vulnerable children and families, designed to "help them and develop toward a more independent, self-reliant life."
Born in Wiesbaden, Germany, in 1959 to Donald and Marilyn Mestnik, Lynn Ann Johnson grew up in Littleton, Colorado. She earned a B.S. in Rehabilitation Counseling and Business Administration at the University of Northern Colorado in 1981 and an M.A. in social work at Arizona State University in 1983.
For 14 years, Johnson worked for the federal court system as a probation and parole officer, which her official biography describes as working with families and children. She specialized in dealing with offenders with mental health problems and those convicted of sex offenses.
Johnson served as deputy director for policy and human services policy advisor for Colorado Governor Bill Owens (R) from 1999 to 2002, including serving on his Task Force on Child Welfare in 1999.
Johnson served as chief of staff to Lieutenant Governor Jane E. Norton in 2002.
Johnson owned and ran a consulting firm focusing on mental health, high-risk youth, developmental disabilities, child welfare, and early childhood education.
She has served as executive director of the Jefferson County Department of Human Services since 2007. This agency is responsible for several critical programs, including Head Start, Temporary Assistance for Needy Families (TANF), child welfare, justice services, Medicaid, Food Stamps, and adult and aging services. Johnson helped create the Children and Youth Leadership Commission and the Aging Well Project, a long-term plan for helping senior citizens stay in their homes.
Johnson has served on several task forces or commissions regarding social welfare issues, including Democratic Governor Bill Ritter's Outcomes Sub-Committee for the Child Welfare Action Commission in 2008 and the Judicial Commission for Families in the Courts. She is currently on the executive committee for the National Association of Public Child Welfare Administrators. She also served as a member of the Colorado Supreme Court Nominating Committee.
She and her husband, Lance J. Johnson, have three children. She has said that she enjoys reading, but always reads the end of a book first.
-Matt Bewig
To Learn More:
How did we Miss it? Former Colorado Lt. Gov. Jane Norton Now Aboard Trump Train at HHS (by Dan Njegomir, Colorado Politics)
Jeffco Prosperity Project Getting off the Ground, Helping Families (by Joe Vaccarelli, Denver Post)