Acting Under Secretary of the Veterans Benefits Administration: Who Is Tom Murphy?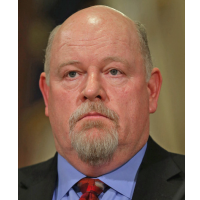 Tom Murphy (photo: Chip Somodevilla, Getty Images)
Thomas J. Murphy was named in June 2016 to be the acting under secretary for benefits in the Department of Veterans Affairs (VA).
Murphy's official biography states that he received a B.S. in Human Resource Management from Colorado Christian College in 1986, however his LinkedIn profile says this happened in 1999. Likewise, his official biography says that he earned an MBA in marketing at the University of Colorado at Colorado Springs in 1994, but his LinkedIn profile gives the date as 2001.
Murphy served for six years in the Marine Corps Reserve and 15 years in the Colorado National Guard, retiring as a major. He also worked as a civilian in the Department of Defense from 1989 to 1999, including three years as a human resources generalist (1989-1992), as a training manager (1992-1993), as an administrative manager (1993-1997) and as a logistics manager (1997-1999).
In October 1999, Murphy moved to the private sector as a senior engineering manager at Qwest Communications, now part of CenturyLink, dealing with engineers in five Western states. Murphy began a stint at Home Depot in February 2002, starting as a store manager for four years. In February 2006, he was promoted to director of sourcing for the home improvement chain, and a year later to director of merchandise planning, a position he held for two years.
Murphy returned to federal service in August 2009 as director of the VA's San Juan, Puerto Rico, regional office. The following year, he was named the agency's director of compensation services, in charge of the VA's disability and death compensation programs. While there, he often was called to testify before Congress about the agency's huge backlog of claims by veterans. Murphy did tout a newly installed computer system designed to handle claims more efficiently, but continued to take heat from Congress. He was also sometimes criticized for denying benefits to veterans claiming damage to their health because of exposure to Agent Orange.
In February 2015, Murphy was named acting principal deputy under secretary for benefits, and took over the Veterans Benefits Administration (VBA) on an acting basis in June 2016. In December 2016, President Barack Obama nominated Murphy to lead the VBA on a permanent basis, but the Senate hadn't taken up the nomination as of March 2017.
-Steve Straehley, David Wallechinsky
To Learn More:
Agent Orange Denier Thomas Murphy Promoted To VBA Chief (by Benjamin Krause, DisabledVeterans.org)