Acting Administrator of the Administration for Community Living: Who Is Edwin Walker?
Tuesday, January 17, 2017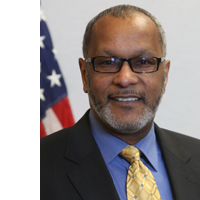 Edwin Walker
Edwin Walker, who has worked on problems of the aging for most of his career, was named in July 2016 to be acting administrator of the Administration for Community Living (ACL) in the Department of Health and Human Services (HHS). He concurrently was appointed as acting assistant secretary for the Administration on Aging (AoA), which is part of ACL.
Walker is from Heathsville, Va. He attended Northumberland High School there, graduating in 1974. He went on to earn a B.A. in mass media arts from Hampton University in 1978 and a law degree from the University of Missouri School of Law in 1983.
The following year, Walker began working for Missouri's Department of Social Services and in 1988 was named director of the Missouri Division of Aging. One of his accomplishments there was to push through a program that made it easier for the elderly to remain in their homes, instead of being forced into nursing facilities.
Walker joined the Administration on Aging at HHS in 1992 as associate commissioner for the Office of State and Community Programs. He later moved up to be Director of Program Operations and Development, and by 2009 was Deputy Assistant Secretary for Policy and Programs in the AoA. The Administration on Aging was merged into the Administration for Community Living in 2012. ACL works to ensure older adults and those with disabilities are able to live as independently as possible. Walker was tapped to lead the agency when former Administrator Kathy Greenlee stepped down in 2016.
Walker has an adult daughter.
-Steve Straehley
To Learn More: