9 American Insiders Who Opposed Bush Torture Program
Thursday, December 18, 2014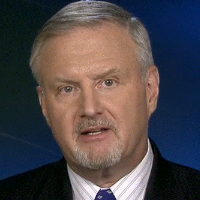 Colonel Morris Davis (photo: Twitter)
The American Civil Liberties Union (ACLU), which has been quick to condemn those George W. Bush administration officials who were behind the torture of those captured in Iraq and Afghanistan, has now honored nine officials who took a stand against the practice.
Then-Navy General Counsel Alberto Mora raised concerns about the use of harsh and abusive interrogation techniques with leaders inside the Pentagon beginning in December 2002. "But his efforts were rebuffed, and eventually Pentagon officials simply circumvented him," according to the ACLU.
Air Force Colonel Morris Davis, who was chief prosecutor for the military commissions at Guantánamo Bay from 2005 to 2007, advocated for a policy barring the use of evidence obtained through torture. His effort failed, and when Pentagon General Counsel William Haynes became Davis' boss, he resigned. "The guy who said waterboarding is A-OK, I was not going to take orders from. I quit," Davis reportedly said.
Military prosecutor Darrel Vandeveld voiced objections to the torture program, resulting in "a negative performance evaluation" as well as being "confined to his residence, forced to undergo mental health evaluation, and threatened with dismissal from the military," the ACLU reported.
Detainee interrogator and Air Force counterintelligence agent Tony Camerino advocated for a non-abusive approach when questioning suspected terrorists and militants in Iraq. He even banned the use of unlawful interrogation methods in 1,300 interrogations he conducted or supervised.
Federal Bureau of Investigation (FBI) agent and interrogator Ali Soufan gained national media exposure after he admitted to fighting against the use of torture by the Central Intelligence Agency (CIA). He was later transferred after raising concerns with his FBI superiors. He told Congress in 2009 that the CIA's methods were "harmful, shameful, slower, unreliable, ineffective, and play directly into the enemy's handbook."
Other Americans who objected to the use of torture included Lieutenant Colonel V. Stuart Couch, a one-time military prosecutor; Major General Antonio Taguba, who investigated allegations of detainee abuse at Abu Ghraib prison in Baghdad and was forced to retire; Army Sergeant Joe Darby, who was stationed at Abu Ghraib and later reported abuses to military investigators; and CIA Inspector General John Helgerson, who authored a 2004 report on the agency's torture techniques.
-Noel Brinkerhoff
To Learn More:
Acts of Courage Against Torture (American Civil Liberties Union)
CIA Censors FBI Agent's 9/11 Book (by Noel Brinkerhoff, AllGov)
Gen. Taguba Says Abuse Photos Show Rape of Women and Men (by Noel Brinkerhoff, AllGov)
Counterterrorism Detention and Interrogation Activities (Central Intelligence Agency, Inspector General) (pdf)