42 Republican Senators Successfully Block Raising Minimum Wage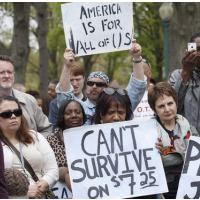 (AP photo)
President Barack Obama's push to raise the federal minimum wage died in the U.S. Senate this week after 42 Republicans prevented the legislation from coming up for debate.
With 60 votes needed to overcome a filibuster, Democrats were only able to muster 54 votes to support discussion of the bill. One Republican, Bob Corker of Tennessee, voted with Democrats because he wanted to debate the matter, but also supported lowering the increase demanded by Obama.
Under the president's plan, the minimum wage would have gradually gone up to $10.10 an hour.
Obama lashed out a Republicans over their refusal to even debate the issue on the Senate floor. "If your member of Congress doesn't support raising the minimum wage, you have to let them know they are out of step and if they keep putting politics ahead of working Americans, you will put them out of office," he said at the White House.
Other Democrats were equally critical in their remarks aimed at the GOP.
"Their vote today defines their priorities," Senator Patty Murray of Washington told CNN. "It is the equivalent of looking American women in the eye and telling them they don't deserve a living wage. It is telling our middle-class families they don't deserve a fair shot."
In response, Republicans pointed to the latest economic figures, which showed the American economy barely grew during the first quarter, indicating that now is not the time to force employers to pay more for salaries, they argued.
Democrats hope voters will remember the GOP's decision come November when the midterm election takes place.
Multiple national polls show a majority of Americans support raising the minimum wage, which is currently $7.25.
A Bloomberg survey showed 69% of people back the increase. An ABC News/Washington Post poll revealed 49% said the Democratic Party was closer to their views on the subject, while only 33% sided with Republicans.
-Noel Brinkerhoff
To Learn More:
Dems Seek to Rally Base over GOP's Block of Minimum Wage Bill (by Tom Cohen and Ted Barrett, CNN)
Democrats Assail G.O.P. After Filibuster of Proposal to Raise Minimum Wage (by Jeremy Peters, New York Times)
New Obama Law—First Look (PollingReport.com)
As Congressional Republicans Block Raising Minimum Wage, States Take Over (by Steve Straehley, AllGov)