20% Increase in Confiscations of Guns—Most Loaded—at U.S. Airports in 2015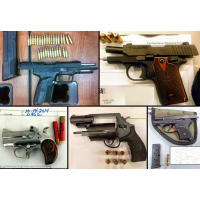 Guns seized by TSA at airports (photo: TSA)
WASHINGTON (Reuters) - U.S. security officials intercepted a record 2,653 firearms - 83 percent of them loaded - from carry-on bags at airport security checkpoints in 2015, a 20 percent increase from the previous year, a federal agency said on Thursday.
The 2,212 firearms seized in 2014 was itself a record, according to the Transportation Security Administration. The firearms seized last year were intercepted at 236 airports, 12 more than in 2014, TSA said.
"Through increased training in detection methods, our officers are becoming more adept at intercepting these prohibited items," TSA Administrator Peter V. Neffenger said in a statement.
Dallas/Fort Worth International Airport seized the most guns in 2015 with 153, followed by international airports in Atlanta with 144, Houston with 100, Denver with 90 and Phoenix with 73, it said.
TSA said it screened more than 708 million passengers last year, or about 1.9 million per day and 40.7 million more than in 2014.
Federal Air Marshals flew more than a billion miles and 98 percent of passengers waited in line less than 20 minutes at security checks, it said.
Reporting by Doina Chiacu.
To Learn More:
Has Troubled Federal Air Marshal Program Become Irrelevant? (by Noel Brinkerhoff and Steve Straehley, AllGov)
Airport X-Ray Scanners Can be Hacked to Mask Weapons (by Noel Brinkerhoff and Danny Biederman, AllGov)
TSA Confiscates an Average of more than 3 Loaded Guns a Day at Airports (by Matt Bewig, AllGov)