Has Troubled Federal Air Marshal Program Become Irrelevant?
Thursday, October 22, 2015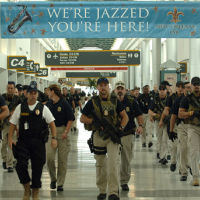 A group of federal air marshals arrive at New Orleans airport (photo: Air Force Tech. Sgt. Sean M.Worrell, U.S. Northern Command)
Some former members of the Federal Air Marshals Service as well as members of Congress have criticized the billion-dollar effort to protect passengers on commercial flights, saying the agency has outlived its post-9/11 purpose.
Consisting of retired federal agents, police officials and members of the armed forces, the air marshals program has become "mired in budget cuts, allegations of misconduct and management turmoil, prompting some in Congress to question whether the multi-billion dollar experiment has outlived its usefulness," according to the Los Angeles Times.
The agency has endured several scandals, including:
· Agents accused in 2012 of setting up sexual liaisons to coincide with their work flights.
· Chicago-based marshals allegedly disguised themselves as pornography producers to hire prostitutes following their trips.
· Reports of alcohol abuse by marshals.
· A top agency official and others inappropriately used their positions to obtain personal firearms from a gun manufacturer.
Former air marshal Jay Lacson, who is suing the agency after being fired for inappropriately releasing confidential job information, told the Times: "I hated every day of it."
"I couldn't stay awake. I got colds. You get complacent," he added, "They don't need the agency anymore."
Some lawmakers are inclined to agree with Lacson. Representative John Duncan (R-Tennessee), a member of the House Oversight Committee investigating the air marshal program, said at a hearing last month that the program is "probably the least, or certainly one of the least, needed organizations in our entire federal government."
Duncan added the agency, which has received $9 billion over the past 10 years, is "ineffective" and "irrelevant." The program "has come to be a symbol of everything that's wrong with the DHS, when 4,000 bored cops fly around the country first class, committing more crimes than they stop," he said.
And the work itself can make the marshals ineffective. At least 10 have committed suicide since 2002. They take three or four domestic trips a day, or quick turnarounds on international flights. Not surprisingly, many say they are sleep-deprived and must use medication to sleep when they're finally off duty.
A study conducted by the Division of Sleep Medicine of Brigham and Women's Hospital at Harvard Medical School, found half of air marshals take medication to sleep, according to CNN.
Those surveyed emphasized the need for help to sleep:
--"Most of the sleep patterns that I have are broken."
--"This is not healthy."
--"I need to take sleep aids."
--"alcoholic drinks ... mixed with sleeping pills."
Sonya Hightower, who took part in the study, says the Department of Homeland Security is trying to hide the results. "Air marshals are exhausted," she told CNN. "They are having memory loss, they are being forgetful. At some point, they are working long enough hours that they are legally intoxicated. ... They can't move. They can't respond fast to things. And the agency was not prepared for someone to document that as well as Harvard did in their study."
-Noel Brinkerhoff, Steve Straehley
To Learn More:
Critics Say Air Marshals, Much Wanted after 9/11, Have Become 'Bored Cops' Flying First Class (by Richard A. Serrano, Los Angeles Times)
Sleep-Deprived, Medicated, Suicidal and Armed: Federal Air Marshals in Disarray (by Nelli Black, Curt Devine and Drew Griffin, CNN)
Supreme Court Gives TSA Whistleblower another Victory (by Danny Biederman and Steve Straehley, AllGov)