Director of the Transportation Security Administration: Who Is Peter Neffenger?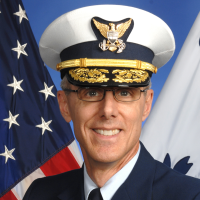 Peter V. Neffenger, who is currently vice commandant of the U.S. Coast Guard, was named on April 28, 2015, as President Barack Obama's nominee to lead the Transportation Security Administration (TSA).
Neffinger was born in 1955 in Salem, Ohio, and grew up in Carlisle Township in a family of eight headed by Carel and Katharine Neffenger. He attended Keystone High School and went on to Baldwin-Wallace College (now Baldwin-Wallace University), in the Cleveland suburb of Berea. He spent his junior year in Europe before graduating in 1977 as an English major. He later earned an M.A. in business management from Central Michigan University; an M.A. in national security and strategic studies from the Naval War College; and a Master's in Public Administration from Harvard.
Neffenger worked for a non-profit organization in New York after leaving college, but joined the Coast Guard in 1981, inspired by an uncle who had been a Coast Guard captain. He was commissioned an officer in 1982 upon completion of Officers' Candidate School and was assigned to the cutter Gallatin, which was stationed in the North Atlantic Ocean. Among his responsibilities was intercepting Haitian refugees and returning them to Haiti.
Neffenger spent two years beginning in 1989 as the Coast Guard's lone representative in American Samoa, helping that territory with its own ocean search and rescue service. In 1993 he was chief of the marine safety unit in Mobile, Alabama, and in that role assisted in the investigation of the September 22, 1993, Sunset Limited train disaster, in which an Amtrak passenger train plunged into Big Bayou Canot after a formation of barges had hit the railroad bridge minutes earlier. Forty-seven people were killed.
From 1999 to 2002, Neffenger was captain of the Port of San Francisco and in 2003 he became commander of the Los Angeles-Long Beach sector. He was responsible for Coast Guard operations in much of Southern and Central California and was captain of the Los Angeles-Long Beach port complex, one of the largest in the world. He was also federal maritime security coordinator and much of his time was spent on anti-terrorism issues.
Neffenger was transferred to Washington in 2006 as the Coast Guard's budget officer. In 2008, he went home, becoming the commander of the Ninth Coast Guard District, based in Cleveland. There, he was responsible for the service's operations from the boundary waters of Minnesota to the St. Lawrence Seaway.
He went on to serve as the Coast Guard's director of strategic management and doctrine and by 2010 he was the Coast Guard's deputy commandant for operations and deputy national incident commander and worked on much of that service's response to the April 2010 BP Deepwater Horizon oil disaster in the Gulf of Mexico.
In May 2014, he was made vice commandant of the Coast Guard, that service's No. 2-ranking officer, a post he held until his nomination as TSA director.
Neffenger's second wife, Gail Staba, is a senior program officer for the Transportation Research Board of the National Academy of Sciences.
-Steve Straehley
To Learn More:
Official Biography (pdf)
Peter Neffenger, Coast Guard Vice Admiral From Cleveland, Tapped to Lead TSA (by Grant Segall, Cleveland Plain Dealer)
Elyria Native Tapped for Second-Highest Coast Guard Post Visits Baldwin Wallace (by Anna Merriman, Lorain Chronicle-Telegram)
Admiral Peter Neffenger Returns to Northeast Ohio to Head Coast Guard's Great Lakes District (by Robert L. Smith, Cleveland Plain Dealer)