Wisconsin and Oklahoma Lead Attack on Food Stamp Recipients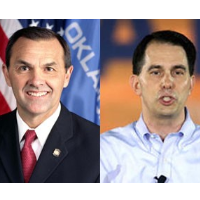 Oklahoma GOP Chairman Randy Brogdon; Gov. Scott Walker (photos: State of Oklahoma; AP)
Republicans in Wisconsin and Oklahoma have gone on the attack against Americans on food stamps.
In Wisconsin, the administration of Republican Governor Scott Walker has sued the U.S. Department of Agriculture (USDA), which oversees the Supplemental Nutrition Assistance Program (SNAP, or food stamps), so it can implement a plan to require anyone seeking food stamps to first undergo drug testing.
The drug testing program was included in the state budget just signed by Walker, who announced Monday that he is running for the GOP nomination for president. Walker's health secretary, Kitty Rhoades, filed the lawsuit in anticipation that the USDA would try to prevent the drug testing for those using or applying for FoodShare, Wisconsin's version of SNAP.
Walker has said the drug testing represents a "compassionate approach to ensuring individuals on certain public assistance programs are workforce ready." Under the governor's plan, an applicant who failed the drug testing would receive treatment, which in some instances would be paid for by the state.
Sherrie Tussler, executive director of the Hunger Task Force, told the Milwaukee Journal Sentinel the federal law is clear that states cannot add extra rules when it comes to food stamp programs.
"They're obviously spending taxpayer dollars on a political program," Tussler said. "Where did the assumption come from in the first place that everybody who's unemployed is on drugs? It's insane."
In Oklahoma, a post on the GOP's Facebook page compared those receiving food stamps to the feeding of animals in national parks, where officials discourage such behavior because it can result in dependency on handouts, according to ThinkProgress.
The comparison prompted a sharp response from the Oklahoma Department of Human Services, which issued a statement: "Shame on you for comparing people in poverty and with disabilities to animals! That was an appalling and uniformed comment. Obviously you did not bother to know the majority of the 604,000 people receiving food benefits in Oklahoma are people who are aging, people with disabilities (including disabled veterans) and the working poor who are raising children. ...The people who need this meager benefit are dependent upon it in order to keep themselves and their children from starving. Is that the kind of dependency you are suggesting we discourage?"
The Oklahoma GOP offered a lame apology on Tuesday, "to those who were offended" and "for any misconceptions that were created."
-Noel Brinkerhoff
To Learn More:
Scott Walker Administration Sues Feds To Allow Food Stamp Drug Tests (by Patrick Marley and Mary Spicuzza, Journal Sentinel)
Scott Walker Doesn't Care If Food Stamp Drug Testing Is Reasonable (by Arthur Delaney, Huffington Post)
The Oklahoma Republican Party's Deeply Offensive Facebook Post (by Tara Culp-Ressler, ThinkProgress)
One Million Adults with Average Annual Income of $2,200 Set to Lose Food Stamps in Coming Year (by Noel Brinkerhoff and Steve Straehley, AllGov)
Is Drug Testing Welfare Applicants a Waste of Money? (by Matt Bewig, AllGov)