One Million Adults with Average Annual Income of $2,200 Set to Lose Food Stamps in Coming Year
Thursday, January 08, 2015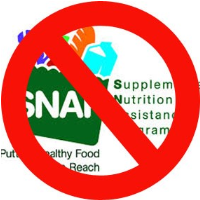 (graphic: Steve Straehley, AllGov)
The federal food stamp program will soon cut off about 1 million poor Americans who make an average of only $2,200 a year, according to a liberal think tank.
The cutoffs will come in 2016 as a result of federal welfare reform law adopted in 1996, which imposed a three-month limit on Supplemental Nutrition Assistance Program (SNAP, or food stamps) eligibility for those aged 18-50 who aren't disabled or don't have minor children, even if they are seeking employment. States were allowed to suspend this limit during times of high unemployment, but with the economy recovering, the unemployment rate in many states has fallen to the point where the limit kicks back in.
The U.S. Department of Agriculture estimates nondisabled childless individuals on SNAP earn 19% of the federal poverty level, or $2,200.
"The loss of this food assistance, which averages approximately $150 to $200 per person per month for this group, will likely cause serious hardship among many," Ed Bolen wrote at the Center on Budget and Policy Priorities. "Agriculture Department (USDA) data show that the individuals subject to the three-month limit have average monthly income of approximately 19 percent of the poverty line, and they typically qualify for no other income support."
About 40% of those who will lose benefits will be women and one-third will be older than 40.
The law's provisions don't apply if the recipient is in a state work or training program. However, there are very few of those programs available; only five states have pledged to offer them in 2015.
-Noel Brinkerhoff, Steve Straehley
To Learn More:
Approximately 1 Million Unemployed Childless Adults Will Lose SNAP Benefits in 2016 as State Waivers Expire (by Ed Bolen, Center on Budget Policy and Priorities)