Will Billing Rape Victims Thousands of Dollars for Medical Exams in Louisiana Finally Come to an End?
Wednesday, October 01, 2014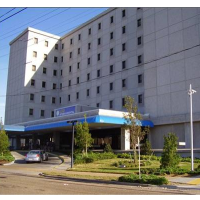 Interim LSU Hospital (photo: LSU Health New Orleans)
As if being sexually assaulted isn't terrible enough, the state of Louisiana makes victims of this crime pay for some of their medical exams and care following attacks.
Victims are often billed $1,700 to $4,000 for evidence collection, HIV and pregnancy tests and emergency room fees. One of the biggest hospitals in New Orleans, Interim LSU Hospital formerly did not charge victims. However, after the hospital control was transferred from Louisiana State University to private interests at the behest of Gov. Bobby Jindal (R), victims began to be billed for some charges.
Some state lawmakers and health officials are now calling for a new law to change this longstanding policy. "Talk about being traumatized twice," state Democratic Representative Helena Moreno told NOLA.com and The Times-Picayune.
State and federal laws are supposed to keep sexual assault victims from incurring this kind of expense. However, the law does allow states to require that victims report their assault to police, which about two-thirds of victims don't do. Otherwise, Louisiana law dictates that victims be treated just like any other ER patient.
Such policies discourage victims from seeking treatment. "Sexual assault is already one of the most underreported crimes, period," said Amanda Tonkovich, a counselor at New Orleans Family Justice Center and coordinator of the New Orleans Sexual Assault Response Team. "Even if people don't want to report, we want them to come to the hospital and make sure they're OK, medically speaking."
Officials with the Louisiana Department of Health and Hospitals explained that the policy was a product of "disjointed local parish health policies" and "a poor legacy charity system that was run inefficiently for many years" that created loopholes forcing victims to foot the bill.
-Noel Brinkerhoff, Steve Straehley
To Learn More:
State Leaders, Policy Makers Call for an End to Billing Rape Victims (by Rebecca Catalanello, NOLA.com, Times-Picayune)
Billing for Rape: Louisiana Sex Assault Victims Often Face Hefty Bills for Medical Care (by Rebecca Catalanello, NOLA.com, Times-Picayune)
Who Pays for Sexual Assault Medical Forensic Exams? It Is Not the Victim's Responsibility (by Janine Zweig, Lisa Newmark, Megan Denver and Darakshan Raja, Urban Institute) (pdf)
More than a Million Rapes in U.S. not Counted in Statistics Due to Police Mislabeling of Sexual Assaults (by Noel Brinkerhoff and Danny Biederman, AllGov)
FBI Expands Definition of Rape to Include Male and Non-Resisting Victims (by Noel Brinkerhoff, AllGov)