West Virginia Plans to Solve Money Woes by Allowing Fracking under Ohio River
Thursday, October 02, 2014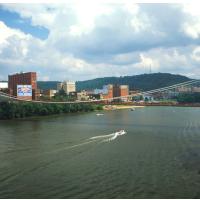 Ohio River near Wheeling, West Virginia (photo: David Fattaleh, West Virginia Dept. of Commerce)
Short on cash, the state of West Virginia has decided one solution to its monetary problems lies beneath the Ohio River.
Officials there have opened the bidding process for companies to sink oil and natural gas wells along a 14-mile stretch of the river. One bidder has already offered $17.8 million over five years plus 18% royalties on extracted oil for the right to frack under the river. Three other bidders offered 20% royalties.
Fracking, or hydraulic fracturing, involves injecting fluid which is often toxic into a well to break loose deposits of oil and gas. The fluid is later injected into spent wells and can contaminate ground water.
State leaders said the move was necessary after lawmakers had to use $100 million from the Rainy Day Fund to avoid a budget deficit earlier this year. Revenue projections show West Virginia falling short again next year by about the same amount unless new sources of funding are identified.
In addition to drilling in the Ohio River, the state may also open up a wildlife management area to drilling.
Numerous environmental groups have called on Governor Earl Ray Tomblin to scrap fracking in sensitive areas. They argue drilling in the river could result in contamination and cut off the drinking water of millions of residents. In January, a huge chemical spill left 300,000 West Virginians without drinking water for days.
"We need not remind you that another large-scale water contamination issue in our state and region could be devastating for West Virginia's economy and reputation, not to mention the human health costs," eight groups wrote to Tomblin, according to the Associated Press.
-Noel Brinkerhoff
To Learn More:
West Virginia Opens Bids on Fracking under River (by Jonathan Mattise, Associated Press)
West Virginia Plans To Frack Beneath Ohio River, Which Supplies Drinking Water To Millions (by Emily Atkin, ThinkProgress)
Ohio Governor Accused of Covering Up Role in Promoting Fracking in State Parks (by Noel Brinkerhoff, AllGov)
Ohio Government Confirms Earthquakes Caused by Fracking-Related Injection Wells (by Matt Bewig, AllGov)