Ohio Governor Accused of Covering Up Role in Promoting Fracking in State Parks
Sunday, February 23, 2014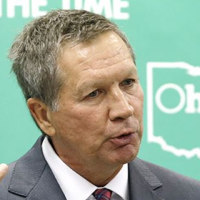 Ohio Gov. John Kasich (AP photo)
The administration of Ohio Gov. John Kasich has been accused of covering up its role in a controversial plan to promote hydraulic fracturing, or fracking, in state parks and marginalize organizations opposed to the drilling.
The Sierra Club obtained internal government documents showing several state agencies were involved in a public relations strategy to help gas companies seeking rights to drill on public lands.
A communications plan drawn up by the Ohio Department of Natural Resources (ODNR) in October 2012 called for a coordinated effort between the state and private industry to push for more fracking, as well as publicly attack environmentalists who objected to the drilling.
The Republican governor's office has denied that Kasich knew of the plan. But the Sierra Club says an internal email obtained by them shows that a key staffer in Kasich's office, Director of Policy Wayne Struble, was involved in the PR strategy, which was not put into effect.
"First came the plans to make life tough for those that disagree with him and now the endless staff cover-ups," Brian Rothenberg, head of ProgressOhio, said in a statement.
Rothenberg insisted the email "casts serious doubts" on Kasich's denial of not being aware of the strategy.
In the draft communication plan, the ODNR characterized environmental opponents as being "skilled propagandists" who would resort to "zealous resistance" to stop fracking in state parks.
To "marginalize" these opponents, the department planned to enlist help from Kasich's office and other state agencies, including Ohio EPA and the Ohio Department of Health. Other allies included Halliburton and the local and U.S. Chambers of Commerce.
"This is an unprecedented collusion between oil and gas companies and the agencies that regulate them," Brian Kunkemoeller, conservation program coordinator for the Ohio chapter of the Sierra Club, said in a press release. "This isn't just bad news for our parks and forests, it's bad news for our democracy."
The ODNR responded to the controversy by saying it was prudent for the agency to prepare for public opposition, particularly those viewed as being extreme in their views or tactics.
"Any responsible organization plans in advance what it is going to do especially when it knows it is going to face fierce opposition to progress," ODNR spokeswoman Bethany McCorkle told the Columbus Dispatch. "The fact that these secretly funded extremist groups are attacking us today validates the wisdom of anticipating the attack and planning for it."
-Noel Brinkerhoff
To Learn More:
Ohio Governor's Office Linked to Fracking PR Conspiracy (by Lauren McCauley, Common Dreams)
Kasich Administration Caught Up in Fracking Conspiracy Cover-Up (Sierra Club)
After 234 Years without an Earthquake, Youngstown had 109 in One Year Once Fracking Began (by Noel Brinkerhoff, AllGov)