Wave of Anti-LGBT Bills Seen in Republican-Dominated State Legislatures
Monday, December 19, 2016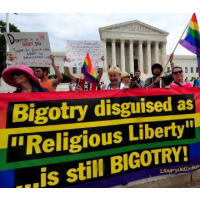 (photo: Getty Images)
By Cameron Langford, Courthouse News Service
HOUSTON (CN) – With Republicans controlling 32 state legislatures, civil rights attorneys are denouncing several proposals they say are crafted to legalize LGBT discrimination in the name of religious freedom.
State lawmakers introduced more than 200 anti-LGBT bills this year and dozens more have been drafted for legislatures to consider in their 2017 sessions, according to the American Civil Liberties Union.
A bill signed in April by Tennessee Gov. Bill Haslam, a Republican, lets therapists refuse to treat patients based on the therapists' religious beliefs.
Under Alabama House Bill 24, to be considered in 2017, adoption agencies could refuse to place children with same-sex couples.
The 2016 count of anti-LGBT bills does not include Texas, because its legislature didn't meet this year. It meets every odd-numbered year.
Texas does not ban discrimination based on gender identify or sexual preference, and state Sen. Bob Hall, R-Van Zandt County, a Tea Party favorite, has written SB 92, which would prohibit Texas cities from broadening anti-discrimination laws to protect homosexuals and transgender people.
"A county, municipality, or other political subdivision may not adopt or enforce a local law that creates a protected classification or prohibits discrimination on a basis not contained in the laws of this state," the bill states.
Though Houston and Texas' other biggest cities — Austin, Dallas, San Antonio and El Paso — are Democratic strongholds, Houston voters in November 2015 rejected an ordinance that would have banned discrimination based on gender, sexual orientation, race, age, disability and other grounds, in line with federal anti-discrimination laws.
Opponents called the measure "The Bathroom Ordinance" and campaigned against it with the slogan, "No Men In Women's Bathrooms," skillfully stoking fears the law would allow predators posing as transgender women to enter women's bathrooms and commit assaults.
Though there have been no reports of bathroom assaults by transgender people in Texas, or anywhere in the country, Lt. Gov. Dan Patrick has made passage of a such a bill a priority for the state's next legislative session, which begins Jan. 10, 2017.
Patrick, a zealous Christian conservative, was the Texas state chairman for Donald Trump's campaign.
ACLU attorneys said Thursday they hope other states will see the fallout of North Carolina's 2015 passage of SB 2 as a cautionary tale.
The law forces people to use bathrooms matching their birth gender and lets magistrates refuse to marry gay couples on religious grounds.
SB 2 has reportedly cost North Carolina more than $395 million in tax revenue and tourism income. The National Collegiate Athletic Association in September pulled its 2017 championship tournament games from the state after the NBA decided to move its 2017 All-Star game from Charlotte to New Orleans.
"Obviously, the NCAA is taking the issue of LGBT discrimination very seriously. They have been willing to step out and be proactive," ACLU attorney Eunice Rho said in a conference call Thursday.
Rho said the NCAA is considering all cities anti-discrimination laws, or lack of them, in evaluating them as potential hosts for its sporting events.
The Texas Association of Business, made up of more than 4,000 companies, warned Texas lawmakers this month that studies have shown passing "So-Called 'Religious Freedom' and 'Bathroom Bills'" could cost Texas more than $964 million in tourism dollars, state and local tax revenue, and 185,000 jobs.
Such legislation could dry up the talent pool for Texas businesses, the business group said in its extensively documented report: "Keep Texas Open for Business: The Economic Impact of Discriminatory Legislation on the State of Texas."
"The studies demonstrate that discriminatory legislation could … substantially hamper the state's ability to attract, recruit and retain top talent, especially among millennials," the report states, citing two studies it commissioned.
ACLU attorneys said LGBT discrimination, under the banner of religious freedom, have even cropped up in the liberal strongholds of California and Hawaii.
A transgender Army reserve sergeant sued a Southern California barber in May after the barber refused to cut her hair. The barber said his Christian beliefs forbade him from cutting women's hair.
After the owner of a Honolulu bed-and-breakfast said her religion made her uncomfortable giving a lesbian couple a room in 2011, the couple sued and a judge ruled in 2013 that the owner violated the state's public accommodation law, which prohibits sexual-orientation discrimination.
"Religious freedom is a fundamental right," James Esseks, director of the ACLU's LGBT Project, said on the conference call. "Everybody has the right to believe whatever they want about God and religion, but none of that gives anybody the right to discriminate against other people."
But ACLU attorney Ian Thompson warned that Republicans in Congress, who will hold a majority in both chambers under President Donald Trump, will try to pass the First Amendment Defense Act.
"The law is meant to allow anyone to act with impunity based on religious belief," Thompson said.
Trump's pick for attorney general, Alabama Sen. Jeff Sessions, a Republican, co-sponsored the bill in 2015.
To Learn More:
Louisiana Judge Rejects LGBT Protections Ordered by Governor (by Erik De La Garza, Courthouse News Service)
North Carolina Anti-LGBT Law Puts $1.4 Billion in Federal College Funding and $800k in Student Loans at Risk (by Emery P. Dalesio, Associated Press)
Big Corporations Face Off with Republican State Lawmakers over Discriminatory LGBT Bills (by Kathleen Foody, Associated Press)