Washington Town of 68,000 Sees 4th Police Shooting Death in 7 Months
Thursday, February 19, 2015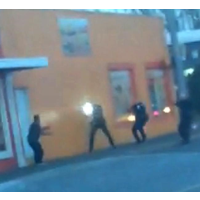 Zambrano-Montes (L) faces police moments before they shot and killed him (photo: Dario Infante, AP)
Police in Pasco, Washington, have shot and killed four people in the past seven months, calling into question whether there's a pattern of use of excessive force by the police department in the city of 68,000 population.
Police officers gunned down Antonio Zambrano-Montes, 35, last week, drawing attention to the rash of shootings that have occurred since July. Zambrano-Montes was being pursued by police for throwing rocks at passing cars. The shooting was captured on video. Since the shooting, community members have staged rallies to protest Zambrano-Montes' death.
The incidents have reminded some of Ferguson, Missouri, last summer, when a white officer shot and killed an unarmed African American, Michael Brown. However in the Pasco case, a special investigative unit, the county coroner and the Federal Bureau of Investigation are looking into the shooting. The U.S. Attorney for the Eastern District of Washington has also expressed interest in the incident.
Pasco's population is 56% Hispanic, but only 14 of the 68 officers are Hispanic. The city council has one Latino member, and the five-member school board has no Latinos.
The other shootings incidents since July, according to The Seattle Times, were:
Rick R. Howard, 49, on July 9 who was fatally shot by a regional SWAT team during a four-hour standoff in Pasco. Howard was drunk and suicidal while firing a rifle at officers.
Brad D. Jensen, 34, on July 29, who was shot multiple times by two Pasco officers after refusing to drop a knife. Jensen was the son of a former Pasco police detective and city councilman.
Matthew L. Stoddard, 25, on September 24, who was shot and killed after pointing an Airsoft pistol, which fires BBs at an officer. He had led police on a short chase while driving a stolen car before the shooting.
-Noel Brinkerhoff
To Learn More:
Killing in Washington State Offers 'Ferguson' Moment for Hispanics (by Julie Turkewitz and Richard Oppel Jr., New York Times)
Pasco Police Shooting: Victim's American Dream Ends in Violent Reality (by Oliver Laughland, The Guardian)
A Look at 4 Previous Police Shootings in Tri-Cities (Seattle Times)
Family: Man Shot By Pasco Police Had Battled Depression (by Tyler Richardson, Tri-City Herald)
County Coroner in Washington Plans Inquest Amid Furor Over Police Killing (Richard Oppel Jr., New York Times)