VP-Elect Pence Tells Indiana Court He Won't Comply with Law Requiring Him to Disclose Gubernatorial Records
Tuesday, November 22, 2016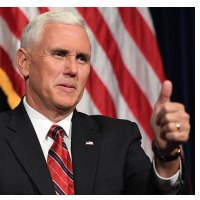 Mike Pence (photo: Mark Ralston, AFP/Getty Images)
By Brian Slodysko, Associated Press
INDIANAPOLIS (AP) — Lawyers for Indiana Governor and Republican Vice President-elect Mike Pence argued in court Monday that the state's judicial branch has no authority to require him to comply with Indiana's public records law.
The civil case before Indiana's Court of Appeals was brought by Indianapolis attorney William Groth, who sued in 2015 after the Pence administration denied a request for un-redacted records, including a document related to Republican efforts to stop President Barack Obama's immigration executive order.
Pence has long presented himself as a champion of a free press and the First Amendment. That's a contrast to President-elect Donald Trump who made attacks on reporters a hallmark of his campaign and refused to release his tax records as other modern presidential candidates have done.
In March, Pence vetoed a bill that would have exempted private universities from releasing some police records, calling it "a disservice to the public and an unnecessary barrier to transparency." And on the campaign trail he aggressively criticized Democrat Hillary Clinton for refusing to release emails sent from a private server she maintained while secretary of state.
But his gubernatorial administration has argued against the public release of emails and other documents that could shed light on his tenure as governor. In some cases, his office has withheld documents, delayed responses or flatly denied public records requests filed by The Associated Press and other news organizations.
On Monday, Pence attorney Joseph Chapelle told the judges that the separation of powers established under the state's constitution should prevent the court system from forcing Pence and his immediate staff to comply with the open records law if they are sued.
"Inquiry into the personal papers of the governor would (interfere) with the affairs with of the governor's office," Chapelle said. "He's different than other state agencies."
The appellate court took up the case after a lower court ruled that Pence did not have to turn over emails, billing invoices or a document authored by the chief-of-staff to now-Texas Gov. Greg Abbott. The documents, sought by Groth, outlined legal arguments for the GOP's successful challenge to Obama's immigration executive order.
Pence's administration released 57 pages of emails with some redactions, as well as redacted invoices to Groth, a Democrat. But it declined to provide an attached document that Abbott's staff had emailed to many Republican governors while trying to recruit other states to join the legal challenge.
Pence's attorneys argue that the governor's office acted within its rights by refusing to release the records, which they say are "work product" that is "deliberative" in nature and also protected by attorney client privilege. But Pence's attorneys also argued that an Indiana Supreme Court ruling that effectively exempted the state's General Assembly from releasing emails should also apply to them.
The state's highest court ruled in April that that it could not order the Legislature to release lawmakers' email correspondence because it would violate the state constitution's separation of powers between the legislative and judicial branches of government.
"It's extremely ironic because hidden emails were a hot topic during the presidential campaign," said Julia Vaughn the policy director for the left-leaning government watchdog group Common Cause Indiana. "He could set an example by walking the walk and not just talking the talk. Sadly I don't expect him to do that."
A ruling in the case against Pence is not expected immediately. But government watchdog groups say that if the courts ultimately agree with Pence's interpretation, the Indiana governor's office would police itself when it comes to the release of public records, seriously weakening the law by limiting the ability to sue for records.
Appeals Court Judge Edward W. Najam, Jr. aggressively questioned Pence's attorney, asking Chapelle if he could point to a specific passage in the state's open records law that exempted the governor's office.
"No, your honor," Chapelle replied.
To Learn More:
Court Rejects Gov. Pence's Policy Barring Syrian Refugees from Indiana (by Lorraine Bailey, Courthouse News Service)
Indiana Gov. Pence Signs Bill Allowing Discrimination against Gays (and also Declares an HIV Emergency) (by Noel Brinkerhoff, AllGov)