Indiana Gov. Pence Signs Bill Allowing Discrimination against Gays (and also Declares an HIV Emergency)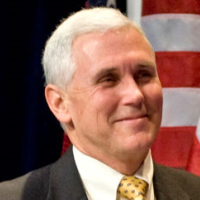 Indiana Gov. Mike Pence (AP Photo)
On the same day the governor of Indiana approved a bill that critics say will sanction discrimination against members of the LGBT community, Republican Mike Pence also declared an HIV emergency in the southern part of his state.
Pence's private, no-press-allowed signing of Senate Bill 101 (pdf), the Religious Freedom Restoration Act (RFRA), came Thursday despite lobbying from celebrities, tech leaders, and convention organizers who objected to the new law.
The new law prohibits state or local governments from substantially burdening a person's ability to exercise their religion, which opponents say is a veiled attempt to allow religious conservatives to discriminate against gays, lesbians, bisexuals and transgender individuals without the state intervening.
"Not only is this law unnecessary, it unfortunately has already portrayed our state as intolerant, unfriendly, and backwards; things which I believe most Hoosiers reject," Democratic state Senate Minority Leader Tim Lanane said in a statement.
Those lobbying against the bill included actor and director George Takei and Adrian Swartout, head of Gen Con, a major gaming convention. Swartout warned Pence he might relocate Gen Con to another state if the governor signed the legislation, which could cost Indiana $50 million annually.
The city of San Francisco declared Friday that it would not pay for any city employees to travel to Indiana except as needed to protect public safety.
Also Thursday, Pence declared a public health emergency in southeastern Indiana, where an epidemic of HIV has been identified by health officials. At least 71 cases of HIV have been reported since December. The cause has been linked to intravenous use of a prescription painkiller.
Pence, who has said he objects to needle exchange programs, authorized a 30-day exchange program to stem the spread of HIV among addicts.
-Noel Brinkerhoff
To Learn More:
Religious Freedom Bill Becomes Law In Indiana (by Emma Margolin, MSNBC)
Gov. Mike Pence Signs 'Religious Freedom' Bill In Private (by Tony Cook, Indianapolis Star)
Needle Exchange Is Allowed After HIV Outbreak in an Indiana County (by Alan Schwarz and Mitch Smith, New York Times)
HIV in Indiana Called Public Health Crisis (by Chris Randolph, Courthouse News Service)
The Religious Freedom Restoration Act (Indiana State Senate) (pdf)
Republicans Opposed to Obama's Health Care Law are Willing to Take its Funding (by Noel Brinkerhoff, AllGov)