Court Rejects Gov. Pence's Policy Barring Syrian Refugees from Indiana
Tuesday, October 04, 2016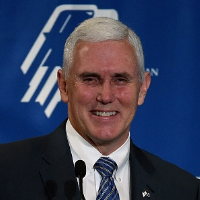 Gov. Mike Pence (photo: Ethan Miller, Getty Images)
By Lorraine Bailey, Courthouse News Service
CHICAGO (CN) — "Nightmare speculation" does not justify an Indiana policy meant to keep out Syrian refugees, the Seventh Circuit ruled Monday.
The terse 6-page opinion comes after explosive oral arguments in which a three-judge panel ripped through every defense that the assistant solicitor general of Indiana gave for the state's policy.
Gov. Mike Pence adopted the policy last year, joining 30 other American governors who vowed not to let any of the millions of refugees fleeing the Syrian Civil War into their states.
States have no power to suspend grants of asylum, however, so Pence instead ordered state agencies to withhold federal grant money from local resettlement agencies that provide refugees with social services.
One such agency, Marion County-based Exodus Refugee Immigration, won an injunction this year, and the Seventh Circuit affirmed it Monday. In the meantime, Republican presidential candidate Donald Trump picked Pence as his running mate.
Monday's ruling unravels Indiana's policy in three a few short paragraphs, saying the state offered "no evidence that Syrian terrorists are posing as refugees or that Syrian refugees have ever committed acts of terrorism in the United States."
"Indeed, as far as can be determined from public sources, no Syrian refugees have been arrested or prosecuted for terrorist acts or attempts in the United States," U.S. Circuit Judge Richard Posner wrote for the unanimous court. "And if Syrian refugees do pose a terrorist threat, implementation of the governor's policy would simply increase the risk of terrorism in whatever states Syrian refugees were shunted to. Federal law does not allow a governor to deport to other states immigrants he deems dangerous; rather he should communicate his fears to the Office of Refugee Resettlement.
At last month's hearing, both Posner and U.S. Circuit Judge Frank Easterbook ridiculed Indiana's attorney for arguing that the policy did not discriminate on the basis of national origin.
"When a state makes an argument that's saying we're differentiating according to whether somebody is from Syria, but that has nothing to do with national origin, all it produces is a broad smile," Easterbrook had said.
A shouting match erupted after Posner asked, "are Syrians the only Muslims that Indiana fears?"
Posner got the last word in Monday's ruling.
"That's the equivalent of his saying (not that he does say) that he wants to forbid black people to settle in Indiana not because they're black but because he's afraid of them, and since race is therefore not his motive he isn't discriminating," Posner wrote. "But that of course would be racial discrimination, just as his targeting Syrian refugees is discrimination on the basis of nationality."
Posner capped off the decision by noting that Indiana is hardly a "magnet for Syrians," and that opposition to the resettlement of Syrians has "petered out."
"Syrian refugees have been resettled in 40 states (Indiana of course is one of them), and there is no indication that their absence from the other 10 is attributable to actions by state governments," the ruling states. "Indiana is free to withdraw from the refugee assistance program, as other states have done; yet withdrawal might not interrupt the flow of Syrian refugees to the state because in states that choose not to participate in the refugee assistance program the federal government has been authorized to establish an alternative program, called Wilson/Fish, that distributes federal aid to refugees in a state without the involvement of the state government."
Though Pence argued that the U.S. process of admitting Syrian refugees was not rigorous enough to keep out potential terrorists, the court emphasized that the perpetrators of recent terrorist attacks were not Syrians.
In fact, the men behind the French terrorist attacks, which inspired Indiana's law, were French and Belgian.
Attorneys for Exodus with the ACLU of Indiana applauded the ruling.
"The Court of Appeals' decision underscores what we have said throughout this litigation," said the group's legal director, Ken Falk, in a statement. "Governor Pence may not constitutionally or legally discriminate against a particular nationality of refugees that are extensively vetted by the federal government."
Pence's spokeswoman Kara Brooks defended the governor's policy as meant to protect "the safety and security of the people of Indiana."
"The state of Indiana took decisive action last year to suspend resettlement of Syrian refugees after the terrorist attack in Paris and because the FBI and the Department of Homeland Security acknowledged security gaps with regard to screening refugees from Syria," Brooks said in a statement. "In addition, as recently as September 21, the State Department spokesman is quoted as saying he 'wouldn't debate the fact that there's the potential for ISIS terrorists to try to insert themselves' into the refugee program."
To Learn More:
Exodus Refugee Immigration, Inc. v. Michael R. Pence (U.S. Court of Appeals for Seventh Circuit)
Court Lambastes Indiana Attorney General Over State Ban on Syrian Refugees (by Jack Bouboushian, Courthouse News Service)
Anti-Muslim Rhetoric, Once Used Only by Far-Right, Has Now Gone Mainstream Republican (by Steve Straehley, AllGov)
Syrian Refugees Already Face a 21-Step Vetting Process for Entering the U.S. (by Noel Brinkerhoff and Steve Straehley, AllGov)
Would Jesus Have Turned Away Syrian Refugees? (by Noel Brinkerhoff and Steve Straehley, AllGov)