Virginia Files Billion-Dollar Mortgage Fraud Lawsuit against Major Banks
Tuesday, September 30, 2014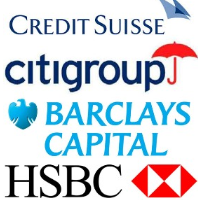 (graphic: Steve Straehley, AllGov)
Wall Street is again under legal attack over its mortgage securities schemes during the real estate bubble, this time from Virginia's top law enforcement official.
Attorney General Mark Herring on September 16 filed a $1.15 billion lawsuit against 13 of the largest banks in the world alleging they defrauded the Virginia Retirement System (VRS) by selling it mortgage-based securities that turned toxic.
The defendants are Barclays Capital, Citigroup Global Markets, Countrywide Securities, Credit Suisse Securities (USA), Deutsche Bank Securities, Goldman Sachs, RBS Securities, HSBC Securities (USA), Morgan Stanley, UBS Securities, WaMu Capital, and Merrill Lynch. J.P. Morgan Securities was also named in the suit, but was dropped last week when it was discovered that the previous Attorney General, Republican Ken Cuccinelli, had settled with the firm for $3 million.
According to the suit, the quality of 38% of the mortgages that backed the securities purchased by VRS was misrepresented and those bad securities wound up costing the retirement fund $383 million. The state is seeking treble damages, plus civil penalties.
"The message today is clear. It doesn't matter if you're a small-time con artist or a multi-billion dollar Wall Street bank. If you try to rip off or defraud Virginia consumers or Virginia taxpayers, you will be caught and you will be held responsible," Herring said, according to Corporate Crime Reporter.
"Every Virginian was harmed by the financial crisis. Homes were lost, retirement accounts were devastated, small businesses saw their credit dry up almost overnight, and state and federal budget cuts hurt vulnerable Virginians. It will take many more years to recover the economic strength and stability we lost, but I will not allow Virginians to be left holding the bag for the reckless, fraudulent business practices of a few big banks who thought they were above the law. These banks lied to Virginia, and taxpayers and state employees lost hundreds of millions of dollars as a result," he added.
The lawsuit represents the largest financial fraud case in Virginia history and the largest of its kind brought under the state Fraud Against Taxpayers Act.
-Noel Brinkerhoff
To Learn More:
With Feds Trolling, Herring Catches Big Banks Red Handed (Corporate Crime Reporter)
Virginia Drops Fraud Suit against JPMorgan Chase (by Danielle Douglas-Gabriel, Washington Post)
Commonwealth of Virginia v. Barclay's Capital Inc., et al (Circuit Court for the City of Richmond) (pdf)
First Government Lawsuit Filed against Major Bank for Institution-Wide Fraud (by Noel Brinkerhoff and David Wallechinsky, AllGov)
Bank of America Smacked with Foreclosure Fraud Lawsuits (by Matt Bewig, AllGov)
New York Sues 3 Major Banks over Mortgage Fraud (by Matt Bewig, AllGov)