Use of Martin Luther King Image in "Fun Shoot" Gun Event Ad a Mistake, Say Air Force Officials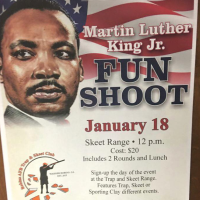 (photo: Twitter/AJC.com)
By Rich McKay
ATLANTA (Reuters) - Officials at a U.S. Air Force base in Georgia apologized on Friday for using an image of slain civil rights leader Martin Luther King Jr. to advertise a "fun shoot" gun practice.
Robins Air Force Base officials issued a statement saying King's picture on the flier was "an honest mistake."
The shooting session is scheduled for Monday, the annual national holiday to commemorate King's birthday. King, an Atlanta native who won the Nobel Peace Prize for his efforts at ending segregation, was assassinated in 1968.
"We offer our heartfelt apology to those affected by our thoughtlessness," base spokesman Roland Leach said. "We hold the legacy of Dr. King in the highest regard.
"We're deeply sorry for any offense or harm caused by our insensitivity and failure to provide appropriate oversight of our marketing process."
The advertisements for the Robins Air Force Base Trap and Skeet Club's event have been pulled and those responsible for the marketing will receive training to prevent a future similar incident, Leach said.
To Learn More:
Italians Object to U.S. Rifle Ad Using Michelangelo's David (by Noel Brinkerhoff and Danny Biederman, AllGov)