Use of Force by Police Officers Decreased by 8% When Wearing Body Cameras
Thursday, August 25, 2016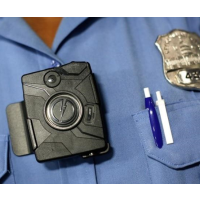 (photo: Win McNamee, Getty Images)
By Dan Sullivan and Tony Marrero, New York Times
TAMPA -- Tampa police officers who wear body cameras are less likely to use force than their counterparts who do not wear them, a University of South Florida study suggests.
Results of the two-year study that examined the effect of the cameras on police behavior were released Wednesday, a day before the Tampa City Council is scheduled to discuss the department's use of them.
The Tampa Police Department outfitted 60 of its patrol officers with the devices in early 2015. The study compared those officers with another group of 60 who did not wear cameras.
The frequency with which officers who wore cameras used force decreased by 8.4 percent in the year after the cameras were introduced. At the same time, officers who did not wear the cameras showed a 3.4 percent increase in use of force incidents -- referred to in the study as a "response-to-resistance."
"Ultimately, the results from this study contribute to the growing body of evidence in support of the utility of body-worn cameras to reduce police response-to-resistance," the study's authors wrote.
The study also examined the number of incidents of physical force for the entire department. The results reflected a slight overall decrease in the use of force for all of the TPD's 761 patrol officers, from an average of 3.05 incidents per officer in the year before the cameras, to an average of 2.73 in the year after.
The reduction among the 60 officers who wore cameras amounts to about 20 fewer incidents of physical force per year, according to the study. The authors speculate that if the cameras were worn by the entire department, the same reduction would translate to about 250 fewer incidents per year.
While the study suggests body cameras may help reduce bad encounters between police and citizens, it cautions that cameras alone are just one piece of the puzzle. It notes that community policing strategies and better officer training are also essential to preventing such encounters.
The authors were USF criminology associate professors Wesley Jennings and Lorie Fridell, and Mathew Lynch, a research associate at the Urban Institute, a Washington, D.C., think tank.
"We appreciate USF doing this study and it certainly points to some encouraging signs, but there are all sorts of issues we need to consider," said Tampa police spokesman Steve Hegarty. "That's what's going to play out before City Council."
The cameras are a big investment but storing the images they capture is even more expensive, he said. The department must weigh logistical, legal and financial factors, he said.
The TPD's body-camera policy requires officers who use them to record during traffic stops, pursuits, arrests, use of force situations, suspicious vehicle and suspicious person calls, alarm calls and building checks, and in-custody interviews.
Gov. Rick Scott signed a bill this year that requires agencies that use cameras to have regulations and proper training protocols in place. It built on a law passed last year that exempts certain body-camera footage from being disclosed under Florida's public records law.
USF conducted a similar study (pdf) for the Orlando Police Department in 2014. In that study, 46 officers were outfitted with cameras for one year. In that year, there was a 65 percent drop in complaints against officers who wore the cameras, according to the study, and a 53 percent reduction in "response-to-resistance" incidents.
All of the officers who participated in the study opted to keep the cameras, and police commanders were so pleased with the experiment that they decided to equip the entire Orlando force with devices.
Tampa Bay agencies are divided on the cameras.
Gulfport police officers have been equipped with the cameras for five years and Pasco deputies started using them this year. The sheriff's offices in Pinellas and Hillsborough do not use them.
Clearwater police outfitted five officers with Taser-brand body cameras for a four-week pilot program in summer 2015 but decided not to purchase more. At the time, Chief Dan Slaughter cited recurring costs and a lack of complaints about excessive use of force. If all of the department's 170 patrol officers wore a camera it would cost about $235,000 every year to store and review video, as well as process public records requests, according to an agency report.
St. Petersburg police Chief Anthony Holloway has said he's open to using body cameras, citing their potential to help build community confidence in law enforcement, but has taken a wait-and-see approach to learn from the experience of other agencies.
On Wednesday, spokesman Rick Shaw said the department has consulted with camera vendors, but has not decided which brand to purchase.
To Learn More:
Evaluating the Impact of Police Officer Body-worn Cameras on Response-to-Resistance and Serious External Complaints (by Wesley G. Jennings, Mathew D. Lynch and Lorie A. Fridell, Journal of Criminal Justice) (pdf)
Police Body Worn Cameras: A Policy Scorecard (Leadership Conference on Civil and Human Rights)
U.S. Marshals Service Balks at Use of Bodycams when they Work with Local Police (by Steve Straehley and Danny Biederman, AllGov)
The Clash over Police Body Cameras Heats Up (by Danny Biederman and Noel Brinkerhoff, AllGov)
Complaints and Use of Force Drop after Rialto Police Don Tiny Video Cameras (by Ken Broder, AllGov California)