U.S. Supreme Court Finds No Security Threat in a Beard, Allows Muslim Inmate to Grow One at Will
Thursday, January 22, 2015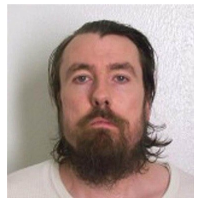 Gregory Holt (photo: Arkansas Department of Correction)
An Arkansas inmate has won his case before the U.S. Supreme Court to grow a beard as part of his Muslim faith.
Gregory Holt, who goes by Abdul Maalik Muhammad, was prevented from growing a half-inch beard by the Arkansas Department of Correction.
State prison policy forbade the growing of a beard for security reasons, claiming the facial hair could be used to smuggle contraband. Only neatly trimmed mustaches are allowed under departmental rules governing inmates.
Holt challenged the prohibition, arguing it violated his religious rights. The Supreme Court agreed unanimously, saying the state was in violation of the Religious Land Use and Institutionalized Persons Act of 2000 (pdf).
Justice Samuel Alito wrote the prison's "interest in eliminating contraband cannot sustain its refusal to allow petitioner to grow a half-inch beard."
"Although we do not question the importance of the department's interests in stopping the flow of contraband and facilitating prisoner identification, we do doubt whether the prohibition against petitioner's beard furthers its compelling interest about contraband. And we conclude that the department has failed to show that its policy is the least restrictive means of furthering its compelling interests," Alito wrote.
He also pointed out the contradiction in the prison's rules. "Since the department does not demand that inmates have shaved heads or short crew cuts, it is hard to see why an inmate would seek to hide contraband in a 1/2-inch beard rather than in the longer hair on his head," the opinion said.
Justice Ruth Bader Ginsburg wrote a concurrence, joined by Justice Sonia Sotomayor, pointing out the differences between this case and another religious liberty case recently decided by the court. "Unlike the exemption this court approved in Burwell v. Hobby Lobby Stores," Ginsburg wrote, "accommodating (Holt's) religious belief in this case would not detrimentally affect others who do not share (his) belief."
Holt is serving a life sentence for burglary and domestic battery at the Varner Supermax prison. He also was convicted of threatening the daughters of President George W. Bush.
-Noel Brinkerhoff, Steve Straehley
To Learn More:
Muslim Wins Appeal to Keep His Beard in Prison (by Barbara Leonard, Courthouse News Service)
U.S. Top Court Rules for Muslim Inmate Over Prison Beard Ban (by Lawrence Hurley, Reuters)
Why You Should Care about a Muslim Inmate's Beard (by Emily Hardman, CNN)
Holt, aka Muhammad v. Hobbs, Director, Arkansas Department of Correction, et al. (Supreme Court of the United States) (pdf)
Federal Court Overturns Amish Hair and Beard Cutting Convictions (by Noel Brinkerhoff, AllGov)
Army Allows Sikh Doctor to Wear Beard and Turban (by Noel Brinkerhoff, AllGov)