Federal Court Overturns Amish Hair and Beard Cutting Convictions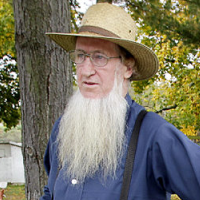 Sam Mullet (photo: Amy Sancetta, AP)
A federal judge has tossed the hate crime convictions of an Amish sect leader and more than a dozen followers charged with cutting off the hair and beards of other Amish in Ohio.
Samuel Mullet, leader of an Amish group in Berholz, was sentenced to 15 years in prison for violating federal anti-hate crimes law when he ordered the forced cutting of men's beards and a woman's long hair. Hair and beard cuttings are considered degrading and insulting in the Amish world, where being unshorn is a sign of holiness. Fifteen followers were also convicted for participating in the 2011 attacks. Seven of them have already completed their sentences.
But the Sixth Circuit Court of Appeals threw out the hate crime convictions, saying the trial judge erred when instructing the jury on the definition of a hate crime. The jury was instructed that the victims' religion must be a "significant factor" in the commission of the crime. The appeals court said that to be a hate crime, it must be shown that the defendants "would not have acted but for the victim's actual or perceived religious beliefs," according to the opinion.
The ruling doesn't mean Mullet and the others still imprisoned for this crime will be freed. Prosecutors now have time to decide whether they will be retried. If they are, defense attorneys could seek the defendants' release on bond. Obstruction of justice convictions obtained against the defendants in the first trial will stand.
During the original trial, Mullet was portrayed "as a fire-and-brimstone preacher and iron-fisted autocrat who imposed strict, and often bizarre, discipline on his flock," according to John Caniglia of The Cleveland Plain Dealer.
"He read and censored all incoming and outgoing mail, punished wrongdoers with spankings and confinement in chicken coops, and engaged in sexual relations with several of the young married women under the guise of marital counseling and absolution," Caniglia reported.
-Noel Brinkerhoff
To Learn More:
Federal Appeals Court Overturns Amish Beard-Cutting Convictions, Citing Erroneous Jury Instructions (by John Caniglia, Cleveland Plain Dealer)
Convictions of Amish Sect Leader and Followers Overturned in Hair-Cutting Attacks (by Erik Eckholm, New York Times)
United States v. Lovina Miller (Sixth Circuit Court of Appeals) (pdf)
FBI Intervenes in Amish Beard-Cutting Dispute (by Noel Brinkerhoff, AllGov)