U.S. Supreme Court Deadlock Blocks N. Carolina Republican Effort to Restore Discriminatory Voting Limits
Monday, September 05, 2016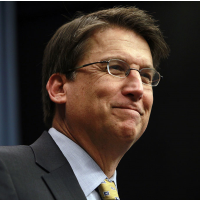 Gov. Pat McCrory (photo: Getty Images)
By Dan McCue, Courthouse News Service
(CN) - A deadlocked Supreme Court on Wednesday rejected an emergency appeal by North Carolina Republicans to restore voting limits found to discriminate against black citizens.
One provision of North Carolina's new election laws required voters to show a photo identification prior to casting ballots. The law also greatly reduced the number of days set aside for early voting.
The Fourth Circuit struck down the rules in July, finding state lawmakers enacted them with the intent to discriminate against black voters.
"The record makes clear that the historical origin of the challenged provisions in this statute is not the innocuous back-and-forth of routine partisan struggle that the State suggests and that the district court accepted," U.S. Circuit Judge Diana Motz wrote on behalf of the three-judge panel. "Rather, the General Assembly enacted them in the immediate aftermath of unprecedented African American voter participation in a state with a troubled racial history and racially polarized voting. The district court clearly erred in ignoring or dismissing this historical background evidence, all of which supports a finding of discriminatory intent."
The panel, which included U.S. Circuit Judges James Wynn and Henry Floyd, found the 2013 voting rules changes violated the U.S. Constitution and the Voting Rights Act.
While the judges were unanimous on the motivations behind the law, Motz dissented in part from the remedy the appeals court ordered.
North Carolina Gov. Pat McCrory and other GOP state officials hoped the Supreme Court would grant a stay that would keep their law in place. The petition split the eight justices along ideological lines Wednesday, with four liberal justices rejecting the request and four conservative justices supporting the state.
The split meant a loss for the state's appeal. Voters thus will not have to show one of several qualifying photo IDs when casting ballots in the presidential battleground state. It also means early voting also reverts back to 17 days, to begin Oct. 20. The now defunct rules would have reduced the number of early voting days to 10.
Gov. McCrory's office was already closed when the Supreme Court order was released. He has yet to comment on the decision either on his official website or through his Twitter account.
In its brief order, the court noted that Chief Justice John Roberts would have granted a stay that would resurrect every aspect of the law except for its provision about voter preregistration. Justices Anthony Kennedy and Samuel Alito concurred, but Justice Clarence Thomas said he would grant the stay in its entirety.
To Learn More:
Courts Scramble to Rule on Challenges to Restrictive State Voting Laws before November Election (by Sarah Smith, ProPublica)
Racial Bias Seen in Proliferation of Republican-Led Voting Restrictions across U.S. (by Michael Wines, New York Times)
North Carolina's Messy Voting Laws Restrict Voting and Support Gerrymandering (by Steve Straehley, AllGov)
North Carolina Latest State to be Sued by Justice Department Over Voter ID Law (by Noel Brinkerhoff, AllGov)