U.S. Justice Dept. Sues Georgia for Widespread Discrimination of Disabled Students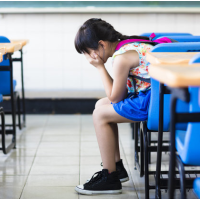 (photo: TomWang112, Getty Images)
By Eva Fedderly, Courthouse News Service
(CN)- The Justice Department sued the state of Georgia, claiming it unlawfully segregates children with disabilities from other students in its schools.
According to the complaint filed in Atlanta Federal Court, Georgia "discriminates against thousands of public school students with behavior-related disabilities by unnecessarily segregating them, or by placing them at serious risk of such segregation, in a separate and unequal educational program."
The DOJ is specifically concerned with the Georgia Network for Educational and Therapeutic Support Program, an initiative financed, operated, and administered by the state.
The department asserts that in practice, the program allows students with disabilities to be taught in the basement of a school building with its own separate entrance.
The students are also educated in "often old, poorly maintained buildings, some of which formerly served as schools for black students under Jim Crow laws," the complaint states.
Moreover, the program denies students with disabilities an equal opportunity to access and benefit from the educational services available to students throughout the State, the DOJ claims.
"Georgia's administration of its mental health and therapeutic educational services for students with behavior-related disabilities unnecessarily segregates students with disabilities in GNETS when they could appropriately be served with their peers in general education settings," a written statement released by the DOJ says.
The ADA requires communities to make services available to people with disabilities and to integrate people with disabilities as much as possible. This includes children with behavioral disabilities, the plaintiff claims.
Georgia Attorney General Sam Olens' office did not return Courthouse News' call requesting comment, nor did Georgia Gov. Nathan Deal's office.
The DOJ seeks declaratory and injunctive relief.
To Learn More:
USA v. State of Georgia (U.S. District Court for Northern District of Georgia)
Six Years Later, Lawsuit Accusing Texas of Mistreating the Disabled Drags On (by Betsy Blaney, Associated Press)
Connecticut Oversight Agencies Failed to Investigate Years of Abuse and Neglect in Group Homes for Disabled (by Joaquin Sapien, ProPublica)
Disabled Children More Likely to Receive Corporal Punishment in U.S. Schools (by Noel Brinkerhoff, AllGov)