U.S. Executions Drop to 24-Year Low; Death Row Inmates Least in 20 Years
Friday, December 18, 2015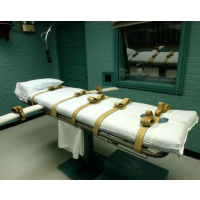 Texas death chamber (photo Texas Department of Criminal Justice)
The United States this year experienced a 24-year low in the number of executions, as the nationwide population of death rows shrank to its lowest level in two decades.
A report (pdf) by the Death Penalty Information Center (DPIC) said only 28 people were executed in 2015, the fewest since 1991, when there were 14. DPIC also reported "for the first time in a generation, there were fewer than 3,000 men and women on death rows nationwide."
Death row numbers are dwindling because states are handing down fewer death sentences. This year saw courts sentence only 49 individuals to death, the lowest number of death sentences imposed since 1973. One jurisdiction, Riverside County, California, was responsible for eight of those sentences.
"The numbers are consistent with a long-term trend in which public support for the death penalty is dropping, the number of executions is dropping and the number of death penalties imposed is dropping," Robert Dunham, DPIC's executive director, told The New York Times.
Only six states performed executions this year, which was the fewest number of states to execute someone since 1992. Texas had the most in 2015, with 13 executions. Missouri had six, Georgia five, Florida two, and Oklahoma and Virginia each with one.
Six prisoners on death row have been exonerated this year, according to the report.
-Noel Brinkerhoff, Steve Straehley
To Learn More:
Executions by States Fell in 2015, Report Says (by Timothy Williams, New York Times)
Executions Continue to Dip Across the Country (by Nicole C. Brambila, Reading Eagle)
Death Penalty Opponents Lost Battles in 2015, but They Are Winning the War (by Ian Millhiser, ThinkProgress)
Death Penalty Use in 2015 Declines Sharply (Death Penalty Information Center) (pdf)
Only 1 of 6 Americans Sentenced to Death are Actually Executed (by Noel Brinkerhoff and Danny Biederman, AllGov)
40 Years of Death Row: 1,359 Executed; 890 Convictions Overturned (by Noel Brinkerhoff, AllGov)
Americans' Support for Death Penalty at 40-Year Low (by Noel Brinkerhoff, AllGov)