40 Years of Death Row: 1,359 Executed; 890 Convictions Overturned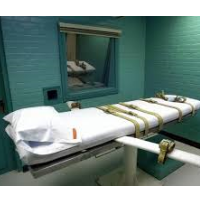 Texas death chamber (photo: Pat Sullivan, AP)
Being sentenced to death by the courts in the United States does not mean a convicted individual is going to die at the hands of an executioner. Quite the contrary.
Federal statistics covering 40 years of the death penalty reveal that 8,466 people were sentenced to death from 1973 to 2013. But only 1,359 were executed during this time, according to Frank Baumgartner, the Richard J. Richardson Distinguished Professor of Political Science at the University of North Carolina-Chapel Hill, and Anna Dietrich, a UNC-CH graduate whose senior thesis was on this topic.
That translates into an execution rate of 16%.
A total of 3,194 had their sentences overturned on appeal, with 890 having their convictions thrown out. Another 1,781 had their death-penalty sentence overturned, but guilt was sustained. Five hundred and twenty-three got off death row because the law was declared unconstitutional.
The likelihood of carrying out a death sentence in an average state in the U.S. is 13%. Virginia is the only state to have executed more than 50% of the prison inmates it has sentenced to death.
"Those sentenced to death are almost three times as likely to see their death sentence overturned on appeal and to be resentenced to a lesser penalty than they are to be executed," Baumgartner and Dietrich wrote.
"Regardless of one's view of the death penalty in principle, these numbers raise questions about how the death penalty is applied in practice. The wide differences across states in the odds of carrying out a death sentence are potentially troubling from an equal protection standpoint," they added.
-Noel Brinkerhoff
To Learn More:
Most Death Penalty Sentences Are Overturned. Here's Why That Matters. (by Frank R. Baumgartner and Anna W. Dietrich, Washington Post)
Capital Punishment, 2013 – Statistical Tables (Bureau of Justice Statistics) (pdf)
Half of Prisoners Cleared after being Wrongly Convicted are African-American (by Noel Brinkerhoff, AllGov)
Report Catalogues Exonerated Americans who Served more than 10,000 Years in Prison (by Matt Bewig)