U.S. Consumer Bureau Goes After Student Loan Servicers for Improper Practices
Tuesday, September 06, 2016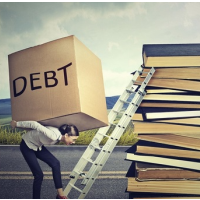 (graphic: Getty)
By Ann Carrns, New York Times
Borrowers wrestling with college debt often complain that it is frustrating to deal with the companies that manage their student loans. This summer, federal regulators have stepped up pressure on loan servicers to treat their borrowers better.
Just this week, Wells Fargo Bank, the second largest lender of private student loans, agreed to pay a $3.6 million civil penalty to settle allegations by the Consumer Financial Protection Bureau that the bank used illegal loan servicing practices that resulted in higher costs and fees for some borrowers. Wells Fargo also agreed to pay $410,000 to affected borrowers.
The watchdog agency said that because of "breakdowns" in Wells Fargo's servicing processes, thousands of borrowers had problems with their loans or received misinformation about their payment options.
The bureau said Wells Fargo, for instance, made it hard for borrowers to control costs by allocating payments in ways that maximized late fees. If a student had multiple loans, for instance, and made a payment that didn't cover the full amount owed, the bank split the payment and applied some funds to each loan, rather than fully satisfying payments for some of the loans. The bureau also said the bank did not clearly inform customers that they could instruct the bank on how to allocate their payments.
Wells Fargo neither admitted nor denied the watchdog agency's findings, according to the consent order.
Jason Vasquez, a Wells Fargo spokesman, said the consent order related to issues that had been identified and corrected by Wells Fargo on its own, even before the bureau's examination. A "good portion" of the accounts affected by the payment procedures, he said, have already been reimbursed.
"We do not agree with the CFPB's assertions," Vasquez said, "and have voluntarily agreed to resolve the bureau's concerns so that we can put the matter behind us."
Loan servicers may or may not be the same company that initially made the loan. Wells Fargo both owns and services its student loans, Vasquez said.
The Consumer Financial Protection Bureau is scrutinizing the actions of student loan servicers — both those that handle private loans and those that handle federal loans. Private student loans, made by independent banks and lenders rather than the federal government, lack some important consumer protections. They represent a small proportion of overall student debt, which totals $1.3 trillion, but private loan borrowers typically carry high levels of debt and have federal loans as well.
Last week, the bureau's student loan ombudsman, Seth Frotman, noted in a midyear report that borrowers often complained that federal loan servicers make it difficult for them to enroll in special programs that can lower their monthly payments on federal loans based on how much money they earn.
The process for applying to the programs should take no more than two weeks, the agency said. But borrowers report that their applications languish for weeks or months in an "application abyss." Delays can cost borrowers more than $2 a day, depending on the interest rate on the loans. That can add up to thousands of dollars over the life of the loan, the report said.
Student loan servicers are "dropping the ball," said Suzanne Martindale, a lawyer with Consumers Union.
Persis Yu, director of the Student Loan Borrower Assistance Project at the National Consumer Law Center, said clients often reported that they waited weeks for a response from their servicer, only to learn that the servicer had misplaced their application or needed additional information that borrowers could have easily provided, if they had known. "There is absolutely a lot of room for improvement," she said.
A report from the Government Accountability Office recommended that the Education Department expand hours at its servicing call centers, so federal loan borrowers can more easily get help when they need it.
Here are some questions and answers about student loan servicing:
Q: How can I make sure I'm enrolled in an income-driven repayment plan quickly?
A: The Consumer Financial Protection Bureau has created a "Fix It" form that borrowers can send to their loan servicers. The agency is urging lenders to use the form themselves as a way to communicate clearly with borrowers, but borrowers can also use it.
Q: How can I tell if my loans are private or federal?
A: The Student Loan Borrower Assistance Project offers tips for determining whether the loans you hold are federal or private.
Q: What if I have a complaint about my student loan servicer?
A: You can file a complaint online with the Consumer Financial Protection Bureau.
To Learn More:
Nation's Biggest Student Loan Agency Won't Reveal Loan Forgiveness Policy Unless Asked (by Annie Waldman, ProPublica)
New Jersey Student Loan Program Seen as 'State-Sanctioned Loan-Sharking' (by Annie Waldman, ProPublica)
Nine Members of Student Loan Foundation Resign (by Melanie Young, AllGov)