Underrepresentation of Minorities in Police Departments is Widespread across U.S.
Friday, September 04, 2015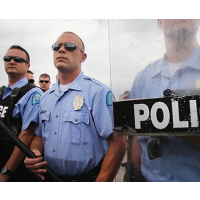 (photo: Getty Images)
The face of police departments across the United States is still largely white, and that includes in communities where minorities make up much of the population.
After examining data from the Bureau of Justice Statistics, Governing found racial and ethnic minorities are underrepresented by a combined 24% on average when police department's demographics are compared with U.S. Census figures for the general public, according to its report (pdf).
"In 35 of the 85 jurisdictions where either blacks, Asians or Hispanics make up the single largest racial or ethnic group, their individual presence in the police department is less than half their share of the population," Mike Maciag wrote at Governing.
Part of the blame for the disparity can be placed with the hiring practices at some agencies. Pittsburgh's police department recently settled a suit with the American Civil Liberties Union over its hiring practices. Across the state in Philadelphia, that city's increasingly white police force might be a result of a state-required psychological exam that could be biased against black applicants.
Even when police departments have a high percentage of minority officers, it doesn't necessarily follow that they'll treat minority members of the community any differently than their white colleagues do. "The research is divided on the issue of whether or not diversifying police departments has any specific impacts," Delores Jones-Brown, professor in the Department of Law, Police Science and Criminal Justice Administration at John Jay College of Criminal Justice, City University of New York, and founder of the school's Center on Race, Crime and Justice, told Newsweek earlier this year. "There's one set of research that says that regardless of the identity of the police officer, they become part of a police culture and in that police culture there is an 'us-versus-them' personality."
- Steve Straehley, Noel Brinkerhoff
To Learn More:
Where Police Don't Mirror Communities and Why It Matters (by Mike Maciag, Governing)
Diversity on the Force: Where Police Don't Mirror Communities (Governing) (pdf)
The New Racial Makeup of U.S. Police Departments (by Victoria Bekiempis, Newsweek)
The Race Gap in America's Police Departments (by Jeremy Ashkenas and Haeyoun Park, New York Times)
No Minority Officers in 215 Texas Police and Sheriff's Departments (by Noel Brinkerhoff and Danny Biederman, AllGov)
White Cops Policing Minority Communities…All Too Common (by Noel Brinkerhoff and David Wallechinsky, AllGov)
In 75 Largest U.S. Cities, 60% of Police Live Outside the City They Patrol (by Steve Straehley, AllGov)