No Minority Officers in 215 Texas Police and Sheriff's Departments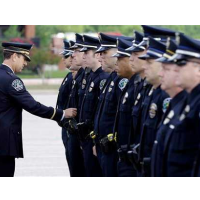 Austin, Texas police officers (photo: Eric Gay, AP)
The issue of police forces not representing the faces of their minority communities, something that has garnered national attention in the wake of high-profile cases of white officers killing black residents, is prevalent in the state of Texas.
An investigation by students at the University of Texas at Austin found 215 police and sheriff's departments in the state that are made up entirely of white officers.
"In many communities, the face of law enforcement doesn't look much different than it did before the Civil Rights Movement," said the Dallas Morning News, which published the report.
Some examples cited include the city of Waco, where whites make up 45% of the population but 80% of the police force, a gap of 35%.
It was also found that almost one out of seven minorities in Texas live in a community with at least a 30-point gap between white police officers and white residents.
Bringing minorities into the ranks of law enforcement in Texas has been slow to come. "Law enforcement was a white man's profession well into the 20th century," said the newspaper. "It wasn't until 1947 that Dallas hired two black men as sworn officers. The Texas Department of Public Safety appointed its first black Texas Ranger in 1988. Houston's first black police lieutenant was appointed in 1982. Terrell Bolton became Dallas' first black police chief in 1999."
"Even when I was a young person in my teens in the '60s or '70s, it was a big deal when someone had an African-American police officer hired," Texas NAACP president Gary Bledsoe told The Dallas Morning News.
The analysis was produced using data from the Texas Commission on Law Enforcement and the U.S. Census Bureau.
-Noel Brinkerhoff, Danny Biederman
To Learn More:
A Racial Divide in Texas (University of Texas at Austin and Dallas Morning News)
White Cops Policing Minority Communities…All Too Common (by Noel Brinkerhoff and David Wallechinsky, AllGov)
In 75 Largest U.S. Cities, 60% of Police Live Outside the City They Patrol (by Steve Straehley, AllGov)