Uncensored Documents on Homeland Security's Controversial Fusion Centers Sought by N.Y. Times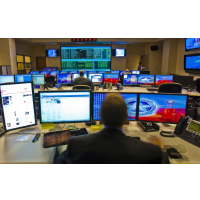 Fusion center in Dallas, TX. (photo: jupiter.com)
By Nick Rummell, Courthouse News Service
MANHATTAN (CN) — The New York Times wants a federal judge to have the Department of Homeland Security release documents related to counterterrorism "fusion centers" that have been roundly criticized in recent years.
Fusion centers were designed as cross-agency, intelligence-gathering offices to coordinate counterterrorism efforts. They were created in part as a response to one of the criticisms of the 9/11 Commission report, which found intelligence sharing among agencies to be poor in some cases before the 2001 terrorist attacks.
In December, the Times submitted a request to Homeland Security, which manages the centers, for its assessments of the fusion centers from 2009 to 2014.
It says the agency heavily redacted the assessments, however, and has not yet acted on the newspaper's appeal.
The Times brought a suit in New York on April 19 under the Freedom of Information Act, sayings its requested documents were withheld without any legal basis.
Fusion centers have been the focus of some criticism in recent years by both the political left and right.
In 2012, a bipartisan Senate report criticized Homeland Security for whitewashing problems with the fusion centers, as well as how it handled the $1.4 billion earmarked for the centers. The report found that five fusion centers had used federal funds to purchase dozens of flat-screen televisions and two sport utility vehicles, yet lacked "basic, must-have intelligence capabilities."
The Republican who initiated the investigation, Sen. Tom Coburn, called the report "troubling" and said at the time that Homeland security had resisted oversight of the centers. "Instead of strengthening our counterterrorism efforts, they have too often wasted money and stepped on Americans' civil liberties," Coburn had said.
A May 2014 report by the Times — written via 4,000 documents obtained by a separate FOIA request — found that fusion centers had been used to track and monitor Occupy Wall Street protesters in 2011 and 2012.
The Cato Institute has alleged fusion center employees have conducted surveillance of Tea Party groups and Second Amendment rallies. In 2009 the Missouri Information Analysis Center allegedly targeted supporters of Ron Paul, a Texas congressman at the time who was then running for U.S. president.
Homeland Security itself has identified privacy risks related to the fusion centers, including data mining and excessive secrecy.
Among those to praise fusion centers, meanwhile, is author Peter Bergen.
In his recent book "The United States of Jihad," Bergen wrote that fusion centers have helped deter jihadist attacks in the United States.
To Learn More:
Obama Administration Spent a Fortune Monitoring Occupy Protests, including Flash Mobs and Yoga Classes (by Steve Straehley, AllGov)
U.S. Counter-Terrorism Apparatus is used to Quell Dissent among Americans (by Noel Brinkerhoff, AllGov)
Homeland Security Fusion Centers: Surveillance Gone Wild (by Matt Bewig, AllGov)
Fusion Centers Combine Uselessness, Waste and Privacy Encroachments in the Fight against Terrorism (by Ken Broder, AllGov California)