Two Republican-Appointed Judges from Texas Rule that Deportation Hold Program would Cause a Financial Burden because Texas would have to Issue Extra Driver's Licenses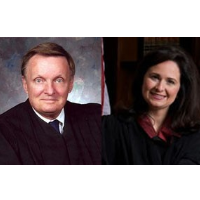 Judges Jerry Smith and Jennifer Elrod
President Barack Obama's immigration reform plan is still on hold following a federal appeals court ruling (pdf) by two Republican judges who agreed with Texas' objections.
Obama's executive order granting protection from deportation and authorizing work permits to millions of unauthorized immigrants was halted previously by U.S. District Court Judge Andrew S. Hanen in Texas who imposed an injunction while reviewing the constitutional issues surrounding the issue.
Obama's lawyers attempted to get the injunction lifted by going to the Fifth Circuit Court of Appeals. But two members of a three-judge panel let the injunction stand in the case that was brought by Texas and 25 other states opposed to the immigration changes that were scheduled to take effect this month.
The judges, Jerry E. Smith and Jennifer Elrod, agreed with Texas' claim that allowing immigrants to remain in the state would force the state to incur costs of issuing drivers' licenses to the undocumented immigrants. The court said that Obama's plan, which was to defer deportation proceedings for undocumented immigrants and grant them work permits, went beyond prosecutorial discretion. The administration says there are 400,000 immigrants in custody and the government is within its rights to set priorities for their deportation.
Smith, who was appointed to the bench by President Ronald Reagan, and Elrod, nominated by President George W. Bush, also said the plaintiffs had sufficient legal grounds to bring the lawsuit and "that the administration had not shown that it would be harmed if the injunction remained in place and the programs were further delayed," according to The New York Times. The Fifth Circuit is considered the most conservative appeals court in the country.
-Noel Brinkerhoff
To Learn More:
Federal Panel Lets Injunction Against Obama's Immigration Actions Stand (by Julia Preston, New York Times)
Appeals Court Rules Against Obama on Immigration Program (by David Nakamura, Washington Post)
State of Texas et al. v. United States (Fifth Circuit Court of Appeals) (pdf)
27 Police Chiefs and Sheriffs Support Deferred Deportation; 25 State Attorneys General Oppose the Same (by Noel Brinkerhoff, AllGov)
Obama Not Alone in Unilaterally Halting Deportations—Some of His Congressional Critics Did It, Too (by Danny Biederman and Noel Brinkerhoff, AllGov)
Reagan and Bush Sr. Gave Amnesty to Immigrants without going through Congress, so What's Wrong with Obama Doing the Same? (by Noel Brinkerhoff, AllGov)