27 Police Chiefs and Sheriffs Support Deferred Deportation; 25 State Attorneys General Oppose the Same
Tuesday, January 20, 2015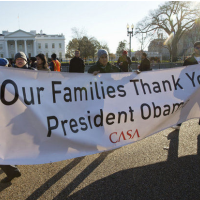 (photo: Jacquelyn Martin, AP)
President Barack Obama's decision to prevent deportation of millions of undocumented immigrants has shown that police and prosecutors don't always see eye-to-eye.
The schism has been apparent in a lawsuit (pdf) filed by 25 state attorneys general opposed to Obama's Deferred Action for Parents of Americans (DAPA) program.
While the AG's want a federal court to block the president's plan, 27 police chiefs and sheriffs from around the country have filed a friend-of-the-court brief (pdf) defending Obama's executive order.
The law enforcement executives come from Los Angeles, Dallas, Denver, Washington, D.C., among other cities, and are supported by the Major Cities Chiefs Association.
Police back the halt in deportations because it makes undocumented immigrants more likely to report crimes and cooperate with police. "When criminals know that their victims are afraid or are unwilling to cooperate with the police, then they enjoy that. And, in fact, crime thrives," Salt Lake City Police Chief Chris Burbank told the Salt Lake Tribune.
The National Immigration Law Center (NILC) praised the chiefs and sheriffs for their move, which they say supports public safety.
"No one should play political games with public safety. These law enforcement leaders have stepped forward to say that the deferred action initiative has solid benefits for community policing," NILC staff attorney Melissa Keaney said. "The courts, the politicians, and the public should heed the warning of police chiefs that an injunction to block the deferred action will hurt efforts of local police to build trust with community members."
-Noel Brinkerhoff
To Learn More:
NILC Lauds Police Chiefs Legal Defense of Administration's Deferred Action Initiative on Immigration (National Immigration Law Center)
Salt Lake City Top Cop Defends Obama on Immigration (by Lee Davidson, Salt Lake Tribune)
State of Texas v. United States (U.S. District Court, Southern Texas) (pdf)
State of Texas v. United States (U.S. District Court, Southern Texas) (pdf)
Obama Acts on Immigration, Announcing Decision To Defer Deportations of 4 Million (by David Nakamura, Washington Post)